Essays in this section center on the theme of what C. G. Jung called the 'Shadow', the hidden dark element of the subconscious mind, and the need to transmute its energies in the cause of individuation and awakening. The first two essays are excerpted from my book The Inner Light: Self Realization via the Western Esoteric Tradition (Axis Mundi Books, 2014). They deal with the themes of shadow elements within the Western esoteric tradition and how they have reached a distorted expression in fictional literature and film, such as via Frankenstein, vampires, and werewolves, each of which can be understood as the 'lower octave' of the Body of Light, tantric communion, shapeshifting/deity yoga, and other legitimate esoteric practices of the great initiatic traditions.

Werewolves, Shapeshifting,
and the Assumption of God-forms
by P.T. Mistlberger

No sooner were these placed on the table than I brought the roof down on the household gods, with my avenging flames, those gods worthy of such a master. He himself ran in terror, and reaching the silent fields howled aloud, frustrated of speech. Foaming at the mouth, and greedy as ever for killing, he turned against the sheep, still delighting in blood. His clothes became bristling hair, his arms became legs. He was a wolf, but kept some vestige of his former shape. There were the same grey hairs, the same violent face, the same glittering eyes, the same savage image.
—Ovid's Metamorphoses (I:199-243)
Even a man who is pure in heart
And says his prayers by night
May become a wolf when the wolfsbane blooms
And the autumn moon is bright

—from The Wolfman (1941)
The main argument of this essay is that the popular mythology of the werewolf that has largely been propagated in modern times by the Silver Screen, beginning with the 1941 film The Wolfman and followed by a host of derivates, is indeed based on an actual worldwide legend—however this legend is ultimately a debased form of certain legitimate practices within the ancient spiritual tradition known as 'shamanism'. These practices, in turn, are primitive versions of advanced mystical practices known in some Western esoteric traditions as the 'assumption of god-forms' and the 'knowledge and conversation of the Holy Guardian Angel', and in certain Eastern traditions as 'deity yoga'. Above and beyond all that, the idea of the 'were-animal' (of whatever species) represents a good representation of what C.G. Jung meant by the 'shadow', the element of repressed animalistic impulse hidden in the subconscious of most people. Arguably this element is as strong, or stronger, in so-called spiritual seekers, because the very striving for light and understanding carries the risk of bringing about an imbalance resulting from the denial of impulse and so-called darkness.

The Wolfman and Derivates

Of the three chief icons of 20th century horror films—Frankenstein's monster, Dracula, and the Wolfman—only the latter deals directly with an animal life-form. Unlike Shelley's Frankenstein (1818) or Bram Stoker's Dracula (1887), there was no 'source text' of fiction to kick start the werewolf film industry. Movies involving werewolves appeared as early as 1913, but the iconic horror image of the bipedal, fanged, tormented, cursed- under-the-full-Moon werewolf did not appear until the 1935 film The Werewolf of London, with Henry Hull. (The makeup artist for this movie was Jack Pierce, the very same artist who made up Boris Karloff for his iconic role in 1931's Frankenstein). The film had an original plot, with the lead character getting bit by a werewolf while in Tibet procuring a type of plant. Later, back in London, the man becomes a werewolf himself, and then kills a young woman, both themes common to classical werewolf legends (see below). The Werewolf of London appeared a few years after the original Dr. Jekyll and Mr. Hyde (1931), at the time was regarded as a derivative of it, and accordingly did not sell many tickets.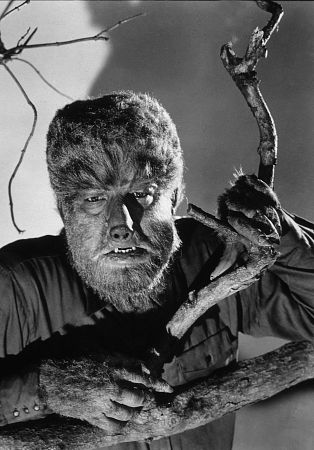 The Wolfman (1941), starring Lon Chaney Jr. (image on the right) is credited with perpetuating the most common werewolf stereotypes, including a man who is bitten by a werewolf and subsequently becomes one himself, transformations under a full Moon, and murders committed at night by a tormented werewolf that are subsequently mostly forgotten in the morning. This movie also featured the metal silver, in the form of a silver walking cane with a wolf emblem purchased by Lon Chaney's character at the beginning of the movie. The film did not, however, feature silver bullets.

A series of werewolf copy-cat movies, many of them bad, subsequently appeared in the 1940s and again in the 1960s and 70s. The decade of the 1980s was the modern 'golden age' of quality werewolf films, beginning with The Howling (1980), followed by An American Werewolf in London (1981), and perhaps the most stylish werewolf movie ever done, Neil Jordan's The Company of Wolves (1984), which was an elaboration of Grimm's Little Red Riding Hood fable. Early 21st century efforts have included Ginger Snaps (2000), and the multiple Underworld and Twilight films, two series which were box office successes but generally derided by critics. (Underworld in particular seemed little more than a Matrix derivative).

Two original and interesting films that dealt with the werewolf theme but did not specifically involve werewolves, were Wolfen (1981), based on Whitley Strieber's 1978 novel about a pack of relatively advanced entities resembling wolves terrorizing urban slums; and Brotherhood of the Wolf (France, 2001), based in part on the true story of 'the Beast of Gévaudan', concerning an alleged wolf-like creature (or creatures) killing people in a region of southern France during the 1760s. The latter film appears also to have taken its lead from the notorious 'Leopard-Man' killings of Nigeria during the 1940s (for both stories, see below). The movie has a twist at the end that involves a trained creature being used as a pawn by a secret society bent on overthrowing the king.

Werewolves in Lore
The word 'werewolf' originates in the Old English terms wer ('man') and wulf ('wolf'); the word has been in use as far back as 1000 CE. The wolf throughout history has served as an intense mirror for human nature because as much as any other animal it has been seen in a heavily polarized light. On the one hand, it has been associated with the antisocial and the disloyal, along with savage impulse, lack of conscience, and outright evil. On the other hand it has also been connected to bravery, loyalty, and the power of team-work, family, organization, or nation (the 'pack') to overcome obstacles. This is an obvious metaphor for human nature. What marks the psychology of the human being as much as anything is the division between the polar potentials for sublime wisdom and nobility of character alongside the capacity for sheer self-centered depravity and destructive malice.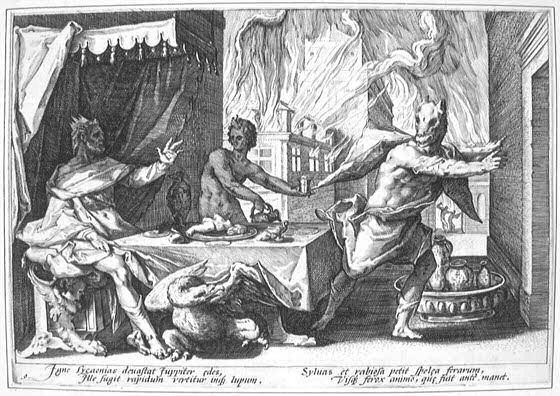 The earliest recorded mention of humans changing into wolves is from ancient Greek literature, in specific from the Balkan area known as Arcadia. Legend has it that this land was ruled by a king named Lycaon (circa 1500 BCE), who also promoted the worship of Zeus. (The Eastern timber wolf derives its scientific nomenclature—Canis lupus Lycaon—from this Greek legend). Lycaon's sons—according to some versions of the myth there were as many as fifty of them—like typical privileged offspring, were reportedly subversive and arrogant. This matter came to Zeus's attention who decided to monitor them 'undercover', disguised as a common worker. In a visit to Lycaon's house the undercover Zeus was fed a vile mix of flesh from a sacrificed human child and animal entrails (the purpose being to determine if the stranger was actually Zeus). Angered at the murder of the child, Zeus turned Lycaon into a wolf. Some versions of the myth have him turning all his sons into wolves as well; other versions have him killing the sons with a lightening bolt. (It is from this legend that the technical term for werewolfery, 'lycanthropy', derives).

From this myth we can see the coincidental nature of the association of the wolf with evil intent. At the simplest level, werewolf legends are in part a reflection of the reality of sharing a territory with a particular predator. Prior to the human depredations of wolves of the 20th century, the wolf was the dominant predator in Europe alongside Man. Predictably, it is from these lands that the werewolf legend has been strongest (such as in Scandinavia, for example). In India there has been the belief in the weretiger, in South America the werejaguar, and in Japan the werefox, and so forth.
In Africa, there have been the wereleopards and werelions. Belief in the former was famously found amongst a group calling itself the Leopard Society—eighteen members of which were executed in Nigeria in 1946 for 'terrorizing' a town, in which up to two hundred victims appeared to have been mysteriously killed by man-leopards.1 The matter of werelions came to light in a series of arrests in 1947 in Tanganyika (today part of Tanzania) in which close to seventy 'Lion Men' were accused of carrying out various acts of mayhem (including murder) while dressed up in lion skins and leaving wounds resembling marks from lion claws. These acts, some of which were ritualistic, were in some instances motivated by the ancient theme of blood-sacrifice, where the belief is that by a ritualistic killing certain merits will be achieved and blessings accorded from deities (such as good weather, crops, hunting, and other benefits).2

Werewolf killings have traditionally been of the lurid sort, often involving sexual depravities and the eating of human flesh (commonly of the young and/or female). Doubtless for a significant number of these cases the root of the matter was straightforward: mental illness (including hallucinations) and psychopathic behavior.3 But in cases where these stories are mere legend, or delusions or fabrications extracted under torture (common during the various Inquisitions), the sources of this appear to be connected to old beliefs around the power, or other attributes, that can be obtained by consuming the flesh or blood of an enemy or other victim with desired qualities. (As far back as Plato this idea has been used as an allegory to warn about the likely end result: in The Republic, Socrates' forecast that any leader who plots to eliminate a political rival—for which he uses the metaphor 'tasting human flesh'—will himself become a tyrant. Cf. Nietzsche's famous expression, 'be on your guard not to become the monster that you hunt!').
Other sources of the legend are clear, such as the Norse traditions of warriors dressing up in the skins of bears they had killed. These warriors, termed berserkers, were renowned for a superhuman strength and fierceness in battle that was compared to trance or frenzy (hence the root of the word 'berserk'). From this it was easy to credit the warrior with the power of the beast he dressed up as.5 The follow up meaning came to represent a person mentally disturbed in such a way that he believed he actually was the beast. This latter usually goes by the designation 'clinical lycanthropy'.

Some of the classic roots of the werewolf legend can also be traced to the famed novel Satyricon, written by the Roman Gaius Petronius (27-66 C.E.), which was rendered into the equally famed Fellini's Satyricon, a 1969 film by the renowned Italian director Federico Fellini.6 Petronius' Satyricon contains a chapter called The Feast of Trimalchio, centering on a wealthy and pretentious former slave who entertains his guests with lavish excess. During a particular feast he regales them with stories, one of which involves him and a companion who go out one night on a walk that takes them near a cemetery. While there, Trimalchio's companion suddenly disrobes, proceeds to urinate in a circle around them, turns into a wolf, and then runs off into the woods, howling as he goes. Trimalchio finds that the man's clothes have turned to stone. He then visits his mistress who tells him that a wolf just attacked their cattle, but was driven off with a pitchfork to the neck. Come morning Trimalchio returns home, only to find his companion suffering a pitchfork wound on his neck and being attended to by a doctor. He then concludes that the man is a versipella (werewolf). Rossell Hope Robbins noted that this story contains four essential elements of werewolf legend: nocturnal transformation, nudity, urination and/or related specific magical acts, and 'sympathetic wounding'.7 The latter factor, the wounding of a wolf and the later capture of a human with a similar wound, was actually used as proof in European werewolf trials,8 the height of which corresponded roughly to the peak of the witch-hunting craze in the 16th century. (The fact that most witch-hunting took place in Germany and France, and that it was these two countries that saw the most accusations and trials concerning alleged werewolves as well, strengthens the likelihood that mass hysteria was at work).

The theme of 'sympathetic wounding' was central in one of the more renowned werewolf trials of that time, which occurred in the district of Poligny, France, in 1521. The story begins with a traveler passing through Poligny who is ambushed by a wolf. The traveler survives, trails the wolf, and ends up at a small house where he discovers a wounded man who is being treated by his wife. The traveler reports the wounded man—his name was Michel Verdung—to the authorities, who arrest him.

Presumably under torture Verdung told an elaborate story that implicated another man, Pierre Bourgot. This man in turn made his own confession, which placed his 'dealings with the Devil' originating nearly twenty years before, in 1502. Bourget claimed that at that time, following a storm that had frightened off his sheep, he was confronted by three 'black horsemen', one of whom offered to help him in exchange for a vow of loyalty. Bourgot agreed, and to his relief his flock was soon found. In a subsequent meeting one of the horsemen revealed himself to be a disciple of the Devil, and extracted a further oath of obedience from Pierre, who consecrated this oath by kissing the horseman's left hand, which he described as black and ice cold. After a couple of years Pierre began to lose his connection with the Devil's disciple and appeared to be re-associating with the Christian faith again. Michel Verdung, another of the Devil's servants, set to work luring Pierre back into the satanic fold with promises of riches. Pierre then attended a sabbat, during which he was made to apply an ointment of some sort (a common theme in werewolf stories). Pierre then found himself turning into a wolf; with the aid of Michel Verdung he was able to revert to his human form. Confessions were extracted from Pierre Bourgot under torture. Amongst other lurid actions he admitted to killing children, which including eating at least two girls under the age of ten, and describing their taste as 'delicious'. He also claimed he fornicated with wolves. Bourgot, Verdung, and another 'werewolf', Philippe Mentot, were all tortured and then burned at the stake.9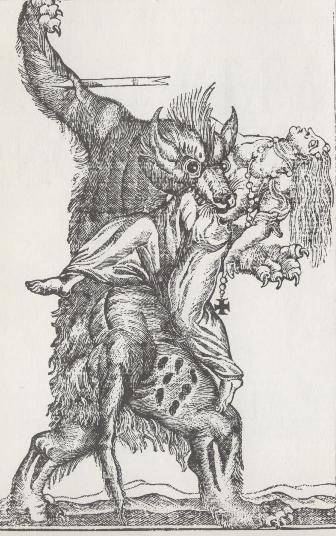 Two more sordid examples are illustrative of possible connections between some lycanthropy cases and the modern designation 'psychopathic serial killer': those of Gilles Garnier and Peter Stubb. The former was a hermit who was declared a werewolf and executed in France in 1574. He had been accused of murdering and eating children. He confessed that he had been in the form of a wolf when he did these killings, and claimed to have often dragged his victim away with his 'fangs'. On one occasion Garnier was caught with one of his victims by some peasants who later agreed that he was in the shape of a wolf-man—body of a wolf, yet with his human face still recognizable. Garnier was forced to confess to making a pact with the Devil, convicted and burnt at the stake. (The actual story was that a wolf had killed some local children, and Garnier, starving, was caught scavenging the carcass of the child—which during that time easily became grounds for being accused of something more sinister than scavenging).10 The latter story, concerning the German Peter Stubb, occurred near Cologne in 1589; at the time, it was one of the more famous werewolf trials in Europe. Stubb claimed to have a 'magic belt' that enabled him to transform into a powerful and ravenous wolf. Similar to Garnier he was accused of preying on women and young people, from as far back as 1561. He further claimed that throughout his nearly three decades of raping and killing he had been influenced by a 'succubus' (a female demon said to visit men at night; the male counterpart is called an 'incubus'). Stubb was tortured in the harshest fashion, then decapitated, then burned. Colin Wilson speculated that the cruelty of the torture may have resulted in fabricated confessions, which doubtless was often the case with so-called witches and lycanthropes.11 However it is also possible that this was an actual case of a 16th century schizophrenic serial killer.

There were a number of other relatively high profile trials involving alleged werewolves in Europe; most of these were in the late 16th century, and most occurred in France. It's unclear why there was a concentration of cases at that time in that part of the world—apart from the simple demographic fact that France was the most populated country in Europe throughout the Middle Ages and into the early modern era—but it may have been no more than the power of transmitted suggestion and mass-hysteria.

At any rate, one of the more infamous cases occurred later, in the late 18th century, when werewolf cases had become rarer (most witch-trials has stopped by then as well). It concerned the 'Beast of Gévaudan', the name given for the alleged creature (or creatures) behind a series of killings between 1764 and 1767 in south-central France in the former province of Gévaudan (modern-day Lozère). Word about these killing traveled widely. The London Magazine of January 1765 reported:

'…a detachment of dragoons [light cavalry] has been out six weeks after him. The province has offered a thousand crowns to any persons that will kill him.'12

During this three year stretch, in a mountainous area ranging over two thousand square miles, some two hundred attacks were allegedly made, resulting in at least sixty-four deaths, and possibly over a hundred. The creature or creatures making these killings was never clearly determined; reports were made describing a vicious and foul-smelling beast that some thought resembled an African wildcat (lion, tiger, panther) or even a hyena. Reportedly it could leap to great heights, and had a large and deadly tail to accompany its lethal fangs.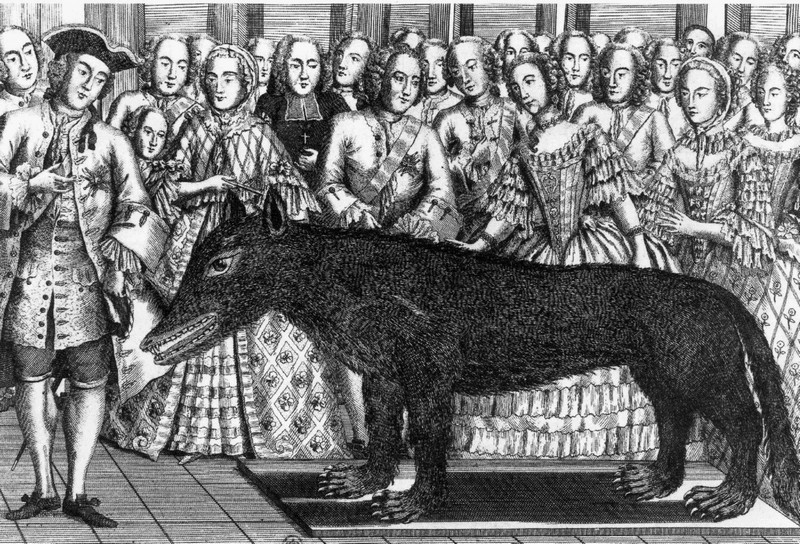 A large wolf, initially thought to be the Beast of Gevaudan, that was shot and displayed at the court of Louis XV, in 1765
Most of the victims were children. The matter came to the attention of King Louis XV, who commanded small armies to track down the creature. Despite some two thousand wolves being shot, the army failed to find the culprits. Eventually an elderly hunter named Francois Antoine succeeded in killing a large animal that weighed 130 pounds and was some 32 inches high at the shoulder (consistent with the dimensions of a large male Gray wolf). This animal was identified by some surviving victims as the culprit (it was subsequently stuffed and displayed for the king at Versailles). However, even after this cull, killings of dozens of people, some of whom were children, continued to be reported. Finally another hunter, 59 year old Jean Chastel, succeeded in killing a creature in 1767. Upon opening its stomach, he discovered human remains. Shortly after this, the killings stopped. This story was rendered into a novel in 1936 by Abel Chevally (La Bete du Gévaudan), where it was embellished by adding the legend that a pious and praying Charest killed the 'evil beast' with two silver bullets (and hence the origin of the legend).13 Later speculation is that this 'beast' was a wolf-dog hybrid, which can be larger and more aggressive than either of its parents (and less likely to fear humans).14

The eccentric English scholar and Christian fundamentalist Montague Summers, in his prodigiously researched work The Werewolf in Lore and Legend, wrote,

…belief in the werewolf by its very antiquity and its universality affords accumulated evidence that there is at least some extremely significant and vital element of truth in this dateless tradition, however disguised and distorted it may have become in later days by the fantasies and poetry of the epic sagas, roundel, and romance.15

Summers' motivation for uncovering this 'vital element of truth' may have been compromised by his Christian 'Devil-hunting' agenda, but there is a truth buried in his speculation, and indeed it lies at the basis of this study. The 'disguised truth' does not involve, however, anything as banal as actual men turning into berserk werewolves and committing atrocities under cold moonlight (although clearly, such atrocities occurred, regardless of their cause). The distorted practice detectable in werewolf legends that we are more interested in here concerns a bona-fide and ancient shamanistic tradition: shapeshifting.
Shapeshifting

'Shapeshifting' is a late 20th century term devised to describe ancient beliefs and practices found in most worldwide cultures. In its broadest sense it refers simply to the ability of a person to change their form, usually into the form of an animal, but it can also suggest a change into the form of any other entity, including human or imaginary creature.
Shapeshifting is a practice closely related to 'sympathetic' or 'imitative magic'. Probably the crudest form of this practice is the common act, frequently engaged in by protesting groups or crowds, of burning an effigy. In destroying the effigy it is believed that this will bring some sort of ill fate to the likeness of the effigy. Certain practices of what are sometimes categorized as black magic or sorcery are based on this, with the stereotype of the magician or sorcerer who sticks pins into a doll that represents an actual person. The more evolved form of this magic is based on the idea that by mimicking something, we can become more deeply attuned to it, and thereby understand it more fully, and, if desirable, even gain some of its qualities.

We can also, provided we have the intent, manipulate, control, or otherwise effect what we are imitating by first, establishing a 'resonance alignment' with it, and second, changing our own behavior in such a fashion that this change will cause the object of our focus to change in a similar fashion. (This is similar to certain behavioral practices called 'mirroring', something many good salespeople either know of, or do naturally. If you adopt a person's mannerisms in a sufficiently subtle fashion, it can result in them feeling more relaxed and 'in tune' with you, which in turn may cause them to be more agreeable to buying your product. This is also similar to a psychotherapeutic tool called 'reality pacing', in which the therapist achieves a strong rapport with their client by deeply acknowledging their point of view, which in turn results in the client feeling 'understood', and in turn, more likely to be open to positive and constructive use of the therapy).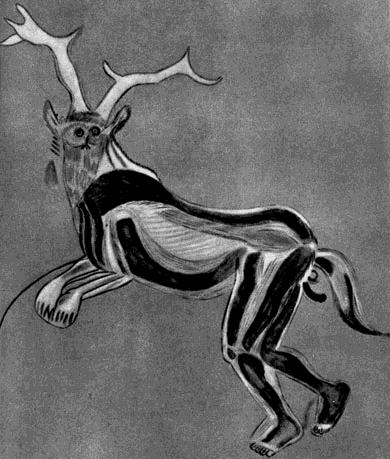 One of the oldest pieces of art work known, the approximately 14,000 year old 'Les Trois Freres' cave paintings in southern France, contains a particular rendering that has long been cause for deep speculation. The image has come to be known as 'The Sorcerer' (shown on the right). It depicts what appears to be a dancing man dressed up in a costume of sorts that seems to be a composite of different animals. Alternately, is has been speculated that the image shows a man who has partially transformed into an animal, or who himself may simply be part animal.

The main idea behind a 'shaman'—the modern term for a practitioner of primordial magic—dancing as an animal, or otherwise seeking to attune deeply to the spirit of an animal, is mainly so that the shaman can acquire some of its natural powers. These 'natural powers' can be understood in terms of subtle, psychological or spiritual aspects—the courage of a lion, the perspective of a hawk, the grandness of an eagle, the power of a tiger or bear, the gentleness of a deer, the cunning of a fox, and so on. They can also be seen in terms of simple physical qualities—physical power, strength, endurance, health, etc. In many worldwide shamanistic traditions, it is believed that the act of deliberately attuning to the spirit of a particular animal is to 'acquire' a guardian spirit (or sometimes called a 'totem' or 'power animal') based on the energies of the entire species represented by the animal. In other words, to acquire an eagle power animal is to tap into the collective power of Eagle; to acquire a bear power animal is to receive the help of Bear, and so on.

The technical term for shapeshifting is therianthropy (from the Greek therion, 'wild beast', and anthropos, 'human'). The term 'shapeshifting' is somewhat misleading, as the vast majority of shamanistic traditions dealing with this matter eventually acknowledge that so-called shapeshifting is in fact an altered state of consciousness, and thus is a transformation of perception, not physical form. (Which, in the shamanistic context, does not diminish the value and purpose of it).

That said, the difference between 'shift in perception' and 'shift in form' was doubtless rarely understood and even now is not always openly clarified, no doubt in large part due to the common folk of past times believing in the physical reality of therianthropes of whatever sort. The anthropologist Michael Harner, in his popular work The Way of the Shaman (1982), reported how the belief in shapeshifting is widespread in shamanistic traditions the world over.16 He mentions the pervasiveness of the belief in North, Central and South American Indian mythology, amongst Australian aborigines, Scandinavian Lapp (where werewolfery is especially prevalent), Siberians and the Inuit, throughout Africa, and so on.

Harner's popularization of the shamanic traditions came closely on the heels of Carlos Castaneda's famous (or infamous, take your pick) and highly influential books describing his alleged apprenticeship to a Yaqui Indian shaman named 'don Juan Matus'. (He ended up publishing twelve books, but the first three—The Teachings of Don Juan, A Separate Reality, and Journey to Ixtlan, all brought out between 1968 and 1972, remain his most famous). In some of his books Castaneda described his own 'transformation' into a crow. In particular Castaneda went a long way toward conveying the importance of perception in experience, and of the meaning and purpose of altered states of consciousness. As a trained anthropologist and a fine writer, Castaneda's works made for compelling reading. He was more or less 'outed' in the late 1970s by scholar Richard DeMille, who demonstrated almost irrefutably that Castaneda had fabricated most, if not all, of his story. Nevertheless as Harner and others have shown, Castaneda was drawing the substance of his ideas from legitimate sources. He had a gift for 'bringing to life' shamanistic ideas that previously had been the province of dry academic texts.
Both Harner and Castaneda were preceded by the Romanian scholar Mircea Eliade, who in 1951 put out his landmark work Shamanism: Archaic Techniques of Ecstasy. This work went a long way toward shedding light on a key matter related to shapeshifting, and that is the question of the so-called 'familiar' or 'helping spirit'. The word 'familiar' relates to family-intimacy; in late 16th century Europe (more or less the peak period of both witch and werewolf trials) the word also came to be used to represent the 'evil helping spirit' of a witch or sorcerer. The historian James Sharpe noted,

…the idea that a witch was usually assisted by a familiar in the shape of an animal constantly recurred in pamphlet accounts; indeed it was present in two of the first surviving pamphlets concerned with witchcraft, both published in 1566…17

It's ironic to note that the more astute scholars of that time held a view that discounted the possibility of actual shapeshifting, seeing it all rather as illusion or perceptual tricks—and yet at the same time, ascribed a supernatural cause to these illusions—namely, that they were the work of the Devil. In 1608 the Italian clergyman Francesco Guazzo published his Compendium Maleficarum (a 'study' of witches), in which he wrote,

…As I have already said, no one must let himself think that a man can really be changed into a beast, or a beast into a real man; for these are magic portents and illusions…for the Devil, as I have said elsewhere, deceived our senses in various ways. Sometimes he substitutes another body, while the witches themselves are absent…and himself assumes the body of a wolf formed from the air and wrapped around him, and does those actions which men think are done by the wretched absent witch who is asleep.18

Werewolfery was impossible, and thus an illusion: but an illusion created by the Devil. It was a twisted synthesis of critical thinking and religious dogma.

Lurid and even erotic powers were ascribed to some 'familiar' spirits, such as the bizarre practice of sucking blood from the genitalia or the anus of the witch.19 This was all seen as a variant of the belief, prevalent on continental Europe of that time, that insisted that the Devil had wild orgies with witches during late night ceremonies called 'sabbats'. However as legitimate shamanistic traditions bear out, the 'familiar' or 'helping spirit' is not seen as lascivious, let alone evil; on the contrary, it is generally regarded as a benevolent assistant, loyal, trustworthy, and able to instill helpful power into the shaman who invokes it.

Eliade defined three essential categories of 'spirits' within the shaman's world: 'familiars' or 'helping spirits'; 'tutelary spirits'; and 'divine or semi-divine beings'.20 It is the first group, the 'helping spirits', which is of interest in the matter of shapeshifting. Another late 20th century term that has become popular for this class of totem entity is 'power-animal'.

A common theme in shamanic tradition is that of the shaman undergoing a key process of awakening (or 'illumination'), after which he must retreat to a wild and natural setting and obtain a helping spirit. This usually occurs via the shaman entering some sort of trance or altered state of consciousness (as via dance, drumming, meditation, hallucinogens, etc.). When the 'helping spirit' comes to him he enters into a deep communion with it, to the point of taking on some of its behavior and characteristics:

The spirits all manifest themselves through the shaman, making strange noises, unintelligible sounds, etc.21
The helping spirit is almost always the spirit-form of a particular animal. Eliade clarified that this process is not the same as 'possession', in that the shaman is acting willfully and voluntarily—and that if anything, the process is reversed, in that it is the shaman who is taking possession of the helping spirit. The helping spirit is of great importance to the shaman, as it represents the shaman's ability to navigate the 'bridge' between the physical dimension and the 'other worlds'. Many worldwide traditions feature legends of the 'psychopomp', the term for a spirit-guide who ushers the soul of a dead person to and through the Other Side, or even to become the new form of the deceased person.22 Commonly this spirit-guide is in the form of an animal (for e.g., the Egyptian jackal-god or wild dog-god Anubis).

The 'tutelary spirit' is generally understood to be a guardian spirit of a very high order, and in some respects correlates to the idea of the 'Holy Guardian Angel' that is central to many mystical schools of the Western esoteric tradition. This spirit is, in fact, the higher self of the person, but seen from the perspective of the personality it appears to be a distinct entity that 'guards' or 'oversees' the person's life. In describing beliefs among shamans of Siberia and Mongolia, Eliade writes,

The tutelary animal of the Buryat shamans is called the khubilgan, a term that can be interpreted as 'metamorphosis' (from khubilkhu, 'to change oneself', 'to take on another form'). In other words, the tutelary animal not only enables the shaman to transform himself; it is in a manner his 'double', his alter ego. This alter ego is one of the shaman's 'souls', the 'life soul'.23
As Eliade astutely noted, the whole basis of the shaman's connection to the helping spirit relates to not just his ability to travel 'between worlds', but also to his ability to undergo 'death and resurrection' by overcoming the limitations of material existence. In short, the ability to shapeshift ultimately relates to the ability to conquer death by undergoing an initiation that thematically involves death itself. Not the death of simply the body, but the death of what we can call egocentric delusions brought about by attachment to material form.
The Psychology of Familiars and Shapeshifting

To further increase our perspective on all this, it's helpful to discuss briefly the psychology of shapeshifting. Before doing so it should be clarified, however, that the traditional shaman is a metaphysical realist, in the sense of believing that the various dimensions and entities contacted actually exist outside of his or her own mind.24 Any attempts at psychological interpretation in the matter of shamanic practices needs to be tempered with this understanding. That doesn't have to stop us, however, from looking at the big picture. Whether we regard something as 'outside' of our consciousness or not, we still have to come to terms with the lesson that the experience represents for us if we wish to understand ourselves better. This is true for any wishing to understand the underlying psychology of certain shamanistic practices.

First, to look at the obvious: the question of mental illness. As mentioned above in the discussions of some of the actual werewolf trials of Renaissance Europe, the cases that involved murders and other criminal depravities (as opposed to 'confessions' fabricated under pain of torture) were quite clearly examples of what today would be called psychopathy. There is however a 'milder' form of mental illness connected to mystical experiences, what the psychiatrist Roger Walsh called 'mystical experiences with psychotic features'. Walsh cited transpersonal psychologists Stanislav and Christina Grof who noted in their studying the cases of 'ordinary' people who underwent spiritual crises that their mystical experiences often involved themes such as great suffering (breakdown of some sort) and symbolic death, followed by 'rebirth', 'ascent and magical flight', and even 'communication with animals or animal spirits'.
Walsh goes on to discuss a shamanic phenomenon of particular relevance to a chapter on werewolves, that being 'possession':
Experiences of possession have been described throughout history and may be a major feature of the shamanic crisis. Today they may occur either spontaneously or in religious or psychotherapeutic settings. The experiences battling with or being overwhelmed by rage and hatred can be of hideous intensity. So powerful, repugnant, and alien do these emotions feel that they seem literally demonic, and the victim may fear he is engaged in a desperate battle for his very life and sanity.25
He goes on to point out, however, that the entire matter can be understood as a process of shedding an old self-image, i.e., a type of spiritual metamorphosis:

Psychiatrist John Perry has described the renewal process as an experience of profound, all-encompassing destruction followed by regeneration…yet this destruction is not the end but rather is a prelude to rebirth and regeneration.26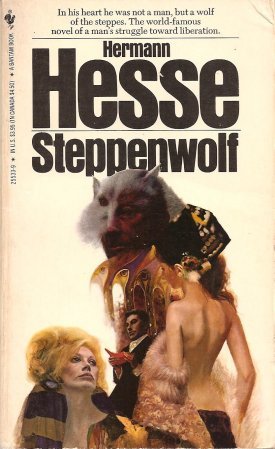 The 'degraded' form of this process of shamanic death, regeneration, and rebirth is well symbolized by the dark, blindly destructive face of the werewolf—the end result of a tormented transformation into a powerful beast (in effect, possession), under moonlight. For the werewolf, the 'rebirth' never comes. There are only endless deaths (losing consciousness) and transformations which he has no ability to control. (The German novelist Herman Hesse, in his 1927 novel Steppenwolf, about a man inwardly conflicted over the tug-of-war between his 'high, spiritual' side and his 'low, animalistic' side, described the process more in terms of social alienation, rejection of bourgeois values and mainstream mediocrity. This is an example of what Colin Wilson called an 'Outsider', one who instinctively seeks to move beyond the mediocrity of the masses, but in most cases lack the guidance, or the ability to 'regenerate' and re-invent themselves in a fulfilling manner).

True shamanic practice involves voluntary intent in the matter of regeneration and rebirth. From the point of view of a person seeking (consciously or not) to become inwardly unified, integrated, a whole person, the ultimate spiritual purpose of associating with 'familiars' or the practice of shapeshifting is becoming more conscious of elements of one's own nature. The key, of course, is consciousness. We cannot integrate a part of our nature without first becoming aware of it. We cannot integrate our 'inner beast' and all the ways its energies become manifest, without first seeing and understanding something of the nature of this beast.

In referring to the tale of the wizard Faust and the devil he conjures (Mephistopheles), C.G. Jung wrote,

Mephistopheles is the diabolical aspect of every psychic function that has broken loose from the hierarchy of the total psyche and now enjoys independence and absolute power. But this can be perceived only when the function becomes a separate entity and is objectivated or personified…'27

Magical evocation—the classical practice of a wizard or magician standing in a circle fortified by Holy Names and 'raising a spirit' by calling it forth via various magical formulae—is essentially the ritualized equivalent of the shaman acquiring a helping spirit. (It goes without saying that the 'type' of spirit being raised, its disposition and qualities, can vary greatly). Seen from a psychological perspective, this represents 'calling forth' elements of the magician's psyche so that he can objectify them and begin to understand them. (In alchemy, this stage corresponds to necessary processes defined by various forms of separation, prior to recombining them). 'Understanding them' does not, of course, mean that the magician or shaman automatically understands how the 'spirit' ultimately reflects a quality or potential within the magician or shaman's own psyche. This point is crucial. Things are degraded when they are disconnected, disintegrated, spread out and scattered. The risk in 'evoking' parts of our nature to objective reality is that we may be so disturbed by what we see that we disown these parts, or worse, project them on to others, who then become our convenient scapegoats.

The psycho-spiritual purpose of shapeshifting can be only one: to objectify parts of our nature, establish a relationship with them, and 're-absorb' them by owning and taking responsibility for their energies—which are, after all, our energies. In so doing we integrate their qualities. In so doing, we become more Whole.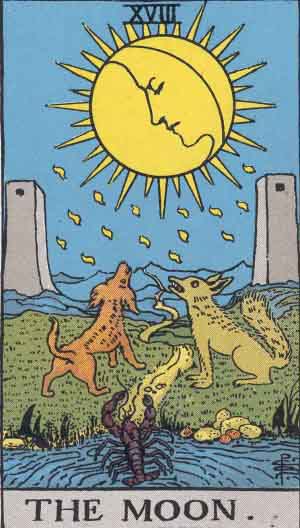 The 'wolfman' is part of human nature—aggressive impulse, secretive and repressed, potentially destructive—for whatever causes. It has been commonly associated with masculine impulse, but it is alive and well in the feminine mind also, hinted at in its legendary connection with the lunar cycle, and further shown in the traditional Moon card of the Tarot, which commonly features a dog howling at the Moon. Man or woman, we need not undergo a writhing and tormented transformation into a murderous beast under a full Moon—that is, we need not deny and repress our aggressive impulses, by becoming secretive or furtive about them. As Jung wrote,

…we have to expose ourselves to the animal impulses of the unconscious without identifying with them and without 'running away'; for flight from the unconscious would defeat the purpose of the whole proceeding. We must hold our ground, which means here that the process initiated by…self-observation must be experienced in all its ramifications and then articulated with consciousness to the best of understanding.28

Finally, it bears mentioning that a term from alchemy—antimony (an actual chemical element with the atomic number of 51)—referred to the hidden wild beast within, and was associated with the wolf in medieval texts. It particularly pointed toward the shadow element of the monk or priest, something that has become all too much a matter of common knowledge.

Deity Yoga and the Assumption of God-forms

If the brutal and twisted imagery of the werewolf—secretive, cursed, predatory, preying mostly on women and children, the ghoul of every Little Red Riding Hood's worst nightmare—represents some of the more degraded elements of imagination, then the esoteric practices known as the 'assumption of god-forms' and 'deity yoga' represent some of its most elevated.

As indicated above, in psychological language the werewolf is simply a part of the 'Shadow'. As with all Shadow-work, the aim is not to run away from this energy, nor to indulge it, but rather to courageously face into it, embrace it, and transmute its powerful energies. In so doing, the vitality, creativity, and power of the Shadow are freed up, minus the secretiveness, hostility and aggression. Much as with a powerful 'problem child', we need to establish a profound level of relationship with this energy and ultimately take responsibility for the reality that it is not our 'feral child', it is rather part of us.

Tibetan Buddhism, being a unique amalgam of rarefied Indian Buddhist metaphysics and earthy Tibetan shamanism, developed particular methods for working with and transforming some of the darkest and densest energies of the Shadow. Some of these practices are included in parts of what is usually termed 'deity-yoga', and they involve utilizing particular tutelary deities as yidams (the Sanskrit equivalent term is Ishta-deva, meaning 'deity that is desired and given reverence to'). A yidam is a celestial being that is the object of personal focus and devotion, either for a spiritual retreat, or as a life-long object of meditation.

In the Tibetan Buddhist pantheon, many exalted deities are recognized, but three very important ones are Chenrezig (the lord of Compassion, known in India as Avalokiteshvara and in China as Kuan Yin); Manjushri, lord of Wisdom; and Vajrapani, lord of Power. These deities in turn all have a 'wrathful aspect'—for Chenrezig, Mahakala; for Manjushri, Yamantaka; and the wrathful face of Vajrapani (which usually goes by the same name). These 'wrathful deities' all appear, to one unaware of Tibetan Buddhist teachings, as simply demonic—fierce, ugly, threatening, often adorned with skulls and of a terrifying disposition. But the three just mentioned are not demons; they are expressions of 'active wisdom', 'active compassion', and 'active power', respectively. According to the teachings they exist in part to protect the dharma (Buddhist teachings), and any practitioner who calls on them, a Protector/Guide theme that is found in many worldwide spiritual mythologies. But there is a subtler, deeper teaching involved here, and it has to do with the 'taming' and integration of Shadow-energies. The fierce deities of Tibetan Buddhism can be thought of as masters of 'tough love', fearless and courageous, spiritual warriors ready to deal with the darkest faces of our egos. They do this not by beating these parts of our nature into submission, but rather by resonating with them, entering their worlds, speaking their language, so to speak, so as to acquire their trust. In so doing, they are then capable of guiding these parts of our darker nature back into the light of integrated awareness.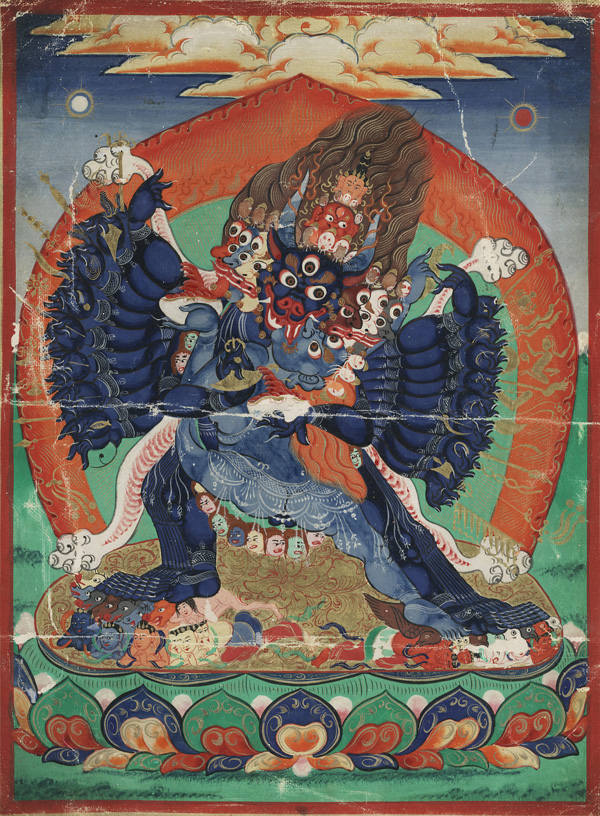 In referring to Yamantaka, the wrathful aspect of Manjushri (lord of Wisdom), Buddhist psychologist Rob Preece wrote,
Yamantaka gives the forces of the Shadow a symbol that hooks their energy and provides a channel and direction for their expression and transformation…he is able to harness their energy and embody their power consciously. The archetypal forces of the instincts and emotions held in the Shadow are given a channel through Yamantaka so that they can be brought into consciousness, transformed, and integrated…as the Shadow forces are transformed, their energy is not lost, but integrated into personal power.29

Preece also cited the vivid analogy of a gang of biker thugs gone out of control (representing our Shadow-elements that are disconnected and 'acting out', such as impulsive anger, tendencies toward depression, unhinged jealousy, etc.). He then asks how such thugs should correctly be 'put in their place', and suggests that it will not be effectively done by a mild-mannered sort, but most likely by one who resembled a biker-tough guy himself, and yet is really an advanced teacher and evolved being. That is what a wrathful deity like Yamantaka represents: the highest expression of tough love.

However, the deeper point is to understand that the wrathful deities are not actually separate from us. They are elements of our own nature. The difference between them and a tormented creature like a werewolf is that they are using their power and aggression in the service of a higher purpose. The werewolf is the beast with no purpose, no reason for being; a furtive expression of repressed and distorted passion. When purpose is squashed, when there exists no other reason for being than serving someone else's agenda, then hostility breeds, and seeks outlets.
The fundamental motivating force toward a higher purpose is compassion, precisely because 'higher purpose' always, without fail, involves playing a role in the awakening and evolution of the human being. Accordingly, this compassion is cultivated with a view toward helping others develop and awaken to their true nature as beings of unlimited potential. And the key quality in this compassion is enthusiasm. The English word 'enthusiasm' derives from the Greek terms enthousiasmos and entheos, both of which relate to 'divine inspiration' and the idea of being ecstatically possessed by a divine being.

The idea of merging with a divine being is ancient, and found within many world myths and wisdom traditions. It is very common in ancient Egyptian tradition but perhaps in ways that have not always been correctly interpreted, an idea that was developed by Jeremy Naydler in his seminal work Shamanic Wisdom in the Pyramid Texts.30 Naydler argued that ancient Egyptian writings preserved in the famous Pyramid texts are more than simple funerary arrangements or frivolous mythology, but are rather teachings describing the initiatic process of awakening to the divine on Earth, while alive, and not just in some after-life. Naydler wrote:

The role of the shaman as mediator between the 'nonordinary' reality of the spirit world and the ordinary reality of the sense-perceptible world is in many respects paralleled in ancient Egypt by the Egyptian king, whose role is similarly to act as mediator between worlds. Such important shamanic themes as the initiatory death and dismemberment followed by rebirth and renewal, the transformation of the shaman into a power animal, the ecstatic ascent to the sky, and the crossing of the threshold of death in order to commune with ancestors and gods are all to be found in the Pyramid Texts…31

The Western esoteric practice known usually as 'the assumption of Godforms' involves extensive usage of imagination. This is done via the practice of visualizing in detail the particular god (usually Egyptian) chosen to unify with. As esoteric scholar Arthur Versluis wrote, in referring to ancient Egyptian practices of identifying with particular deities,

…to be the God, to not only mirror, but to attain complete identification with the God, with that state of consciousness, was the aim of initiatory ritual as such.32

The result is intended to change or transmute the seeker's 'Body of Light' (recall our discussion of this in the chapter on Frankenstein) into the 'Body of God'. That is the ageless goal of mysticism and high magic: union with the Source.

The Western esoteric practices of assuming Godforms are, of course, very similar to the Tibetan Buddhist practices of deity yoga mentioned above, although it should be pointed out that the Tibetan systems generally emphasize the necessity of developing compassion and understanding emptiness (the intrinsic formlessness of ultimate reality) prior to engaging the visualization work. There are also preliminary trainings in Western esoterica, but they relate more to the development of will and imagination rather than compassion and grasp of emptiness. Both approaches, however, are ultimately concerned with the highest possible usage of imagination, as a tool to realize our divine potential.

As a closing point of consideration: the wolf as a symbol has been linked to 'type six' in the nine-point system of personality types known as the 'Enneagram'. This personality-type system is very complex and can only be mentioned in passing here. But of note is that 'Type Six' in the Enneagram system is commonly associated with a fear-driven personality that has a very conflicted relationship with authority and power. Helen Palmer called the type 'the Devil's Advocate', a reference to its anti-authoritarianism, which is one way of dealing with fear of power. (The other way is to acquire a 'protector' of some sort).33 Claudio Naranjo called the 'Type Six' the 'persecuted persecutor', and described its more negative face as a cowardly recoil from life, a tendency to blame oneself rather than appropriately challenge outer obstacles, and to exercise excessive obedience to authority, or feigned friendliness, as a means of managing one's anxiety.34 That is one way to deal with fear (the passive face of Type Six). The other way is to attack in a subversive fashion, 'behind the scenes' and 'under the cover of night', so to speak, and that sums up the demeanor of the werewolf.
The transformation of this matter lies in healthy empowerment, and that is where 'tutelary deities' like Yamantaka and Vajrapani carry appropriate symbolism, representing as they do a fearless embrace of life and the transmutation of fear-energy into vitality, aliveness, passion, and purposeful direction in life.

Notes

1. This story is complex and ultimately involves decidedly less arcane issues such as inter-tribal rivalries, resistance to British rule, and the usual matters of corruption in an unstable society following the turmoil of the Second World War. See David Pratten's The Man-Leopard Murders: History and Society in Colonial Nigeria (Indian University Press, 2007).

2. Gordon Wellesley, Sex and the Occult (London: Souvenir Press, 1973), pp. 66-67.

3. This idea was explored as far back as 1865, by the clergyman/scholar Sabine Baring-Gould, in his intelligent and comprehensive study The Book of Were Wolves.

4. Barry Holstun Lopez, Of Wolves and Men (London: J.M. Dent and Sons Limited), 1978, p. 231.

5. Rossell Hope Robbins, The Encyclopedia of Witchcraft and Demonology (New York, Crown Publishers), 1959, p. 325.
6. Fellini underwent Jungian analysis and in part credited Jung's ideas on archetypes and the anima/animus as influential on his film.

7. Ibid, p. 325.
8. Lopez, Of Wolves and Men, p. 234.

9. Robbins, The Encyclopedia of Witchcraft and Demonology, p. 537.

10. Lopez, Of Wolves and Men, pp. 240-241.

11. Colin Wilson, The Occult (New York: Vintage Books, 1973), p. 440.

12. Montague Summers, The Werewolf in Lore and Legend (Mineola: Dover Publications, 2003), p. 235. Originally published in 1933 as The Werewolf.

13. Robert Jackson, Witchcraft and the Occult (Devizes, Quintet Publishing, 1995) p. 25.

14. Lopez, Of Wolves and Men, pp. 70-71.
15. Summers, The Werewolf in Lore and Legend, p. 1.
16. Michael Harner, The Way of the Shaman (New York: Bantam Books, 1982), pp. 73-83.

17. James Sharpe, Instruments of Darkness: Witchcraft in England 1550-1750 (London: Penguin Books, 1997), p. 71.
18. Francesco Maria Guazzo, Compendium Maleficarum (New York: Dover Publications, 1988), p. 51. Guazzo drew some of his material from the notorious witch-hunter Nicholas Remy.
19. Sharpe, Instruments of Darkness, pp.73-74.
20. Mircea Eliade, Shamanism: Archaic Techniques of Ecstasy (Princeton University Press, 1974; originally published in French in 1951), p. 88.
21. Eliade citing Webster, Ibid, p. 92.
22. Ibid, p. 93.
23. Ibid, pp. 94-95.
24. Roger Walsh, The Spirit of Shamanism (Los Angeles: Jeremy P. Tarcher Inc., 1990), p. 115.
25. Ibid, p. 95.
26. Ibid, p. 95.
27. C.G. Jung, Psychology and Alchemy (Princeton University Press, Bollingen Series, 1980), p.69.
28. Ibid, pp. 145-146.
29. Rob Preece, The Psychology of Buddhist Tantra (Ithaca: Snow Lion Publications, 2006), p. 187.
30. Jeremy Naydler, Shamanic Wisdom in the Pyramid Texts: The Mystical Tradition of Ancient Egypt (Rochester: Inner Directions, 2005).
31. Ibid, p. 15.
32. Arthur Versluis, The Egyptian Mysteries (London: Arkana, 1988), pp. 117-118.
33. Helen Palmer, The Enneagram (New York: HarperCollins, 1991), p. 237.
34. Claudio Naranjo, Ennea-Type Structures (Nevada City: Gateways/IDHHB Inc., 1990), pp. 97-110.
Copyright 2011, by P.T. Mistlberger, all rights reserved.
__________________________________
Frankenstein and the Body of Light
by P.T. Mistlberger

It was on a dreary night of November that I beheld the accomplishment of my toils. With an anxiety that almost amounted to agony, I collected the instruments of life around me, that I might infuse a spark of being into the lifeless thing that lay at my feet
.
—Mary Shelley's Frankenstein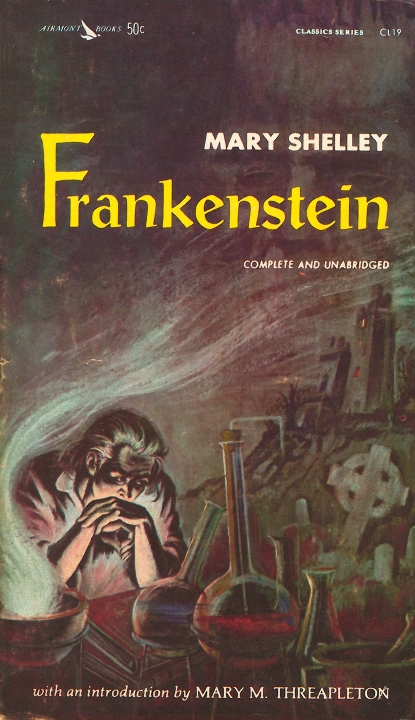 In some respects, Frankenstein, originating in Mary Shelley's classic early 19th century novel, is the prototype of both the modern horror creature and modern stories of the supernatural. As a film, it represented as best as any the warping, cloaking, and sensationalizing of legitimate and important ideas from the mystical and occult traditions.
The story is unique in how its title, a name which refers to a fictional Swiss scientist (Victor Frankenstein) who creates a creature that he loses control of, long ago came to be confused with the creature itself. This creature is no ordinary creature, but in fact a terrible monster, and one that has inhabited the imagination of many a child influenced by 'monster stories' and has made for many a Halloween-party costume.
The first film version of the story appeared in 1910, with Charles Ogle playing the monster. It was made by the Edison Company, owned by Thomas Edison, the seminal scientist and businessman whose genius was behind the development of both the light bulb and the motion picture camera—a perhaps fitting link with the science-fiction theme of inspired yet mad creation behind Shelley's monster. The more iconic
Frankenstein
film appeared in 1931, starring Boris Karloff (1887-1969) as the monster. (Despite his Russian-sounding name Karloff was actually an Englishman; his birth name was William Pratt). It is from the 1931 film that the stereotypical look of Frankenstein's monster was first created. Since then some forty movies have been shot featuring Frankenstein's monster. The classic Frankenstein's monster look was even mimicked in the T.V. comedy show
The Munsters
(1964-66) by the character Herman Munster (played by Fred Gwynne).
Origins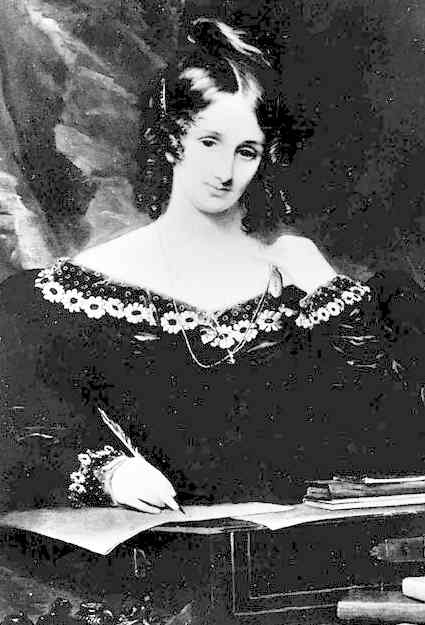 Frankenstein: or, The Modern Prometheus—viewed by many as the most influential modern fictionalized treatment of the occult—was the creation of a teenage girl. It was written by English novelist Mary Shelley (nee Godwin, 1797-1851). She began the novel in mid-1816 at age eighteen and finished it a year later. (This is more impressive than it may sound: between 1816-17 she gave birth to two children, got married, and lost her half-sister to suicide). It was first published in 1818 when she had not yet turned twenty-one; this first edition was brought out anonymously. Her husband, the renowned poet Percy Bysshe Shelley, encouraged her writing and wrote the Preface. Mary Shelley was credited as author only in the second edition which was brought out in 1823.1 A further revised edition was published in 1831, in which some of the language in the first part of the story was toned down.2
The origin of the story lies in a series of meetings between Shelley, her husband Percy, the Romantic poet Lord Byron, and two others. The group had been reading and discussing German ghost stories in French translations, when Byron proposed that they all attempt to create their own ghost story. Mary Shelley initially experienced a block in her imagination and for several days was unable to come up with anything. One night she listened to her husband and Byron discuss the possibilities of galvanism and related matters. (Galvanism, a term coined in the late 18th century, referred to the idea of stimulating muscles via applying an electric current to them, and to the possibility of animating dead tissue via electricity. The word was taken from the discoverer of bioelectricity, Luigi Galvani, who in 1791 first published his study showing how nerve cell signals passed to muscles are electrical in nature. The modern term, electrophysiology, is the study of the electrical properties of living cells). Shortly after, Shelley conceived of her idea of the story of a scientist who constructs a living creature from derelict organic parts. The outline of the story came to her in a series of visions while she lay in bed unable to sleep, having fallen into a light trance state.
The novel is a classic of 19th century horror. Some have even attempt to portray it as the first science-fiction novel, although in fact the book barely qualifies as science-fiction, as there is no real attempt at 'science' anywhere in its text, even the 'techno-babble' science typical of the genre; it rather leaps straight to the end result, the creation of the monster, thereafter being one extended commentary on the results of such a creation. The subtitle of the book, or, The Modern Prometheus, refers to the Greek god (one of the Titans) who brought fire to humanity by stealing it from Olympus, an act for which he was severely punished by Zeus. The early 20th century occultist and artist, Austin Osman Spare, once defined magic as the art of 'stealing fire from heaven', a reference to the Prometheus myth.3
Shelley did not originally set out to write Frankenstein with any serious intention to express esoteric ideas; she simply wanted to write a good horror story. In her Introduction to the revised 1931 edition, she admitted, following her meetings with Percy Shelley and Lord Byron,
I busied myself to think of a story—a story to rival those which had excited us to this task. One which would speak of the mysterious fears of our nature and awaken thrilling horror—one to make the reader dread to look around, to curdle the blood, and quicken the beatings of the heart. If I did not accomplish these things, my ghost story would be unworthy of its name.4
Her husband added that the entire brain-storming sessions that led to his wife conceiving Frankenstein were conducted in the spirit of playfulness:
…We crowded around a blazing wood fire and occasionally amused ourselves with some German stories of ghosts which happened to fall into our hands. These tales excited in us the playful desire of imitation.5
Notwithstanding the spirit of its origins, the novel, despite a mixed critical reception, was an immediate bestseller and grew to have lasting iconic influence. In addition and more importantly to our concerns here, the connection between Frankenstein as penned by Shelley, and the Western esoteric tradition, is clear. Shelley has the protagonist of her novel, Dr. Frankenstein, studying such major occult luminaries as Albertus Magnus, Agrippa, and Paracelsus. When Frankenstein sets about achieving his great creation (and ultimately, monster), he utilizes both science (chemistry) and alchemy. Shelley took this from Paracelsus' actual attempts to create an artificial man (see below).
That said, the general attitude of the book, as expressed by Victor Frankenstein, is progressive, and Shelley was very aware of the movement from mystical alchemy to practical chemistry. In the novel, young Victor discovered Agrippa's occult writings as a boy, and excitedly reported them to his father, who disapproved, remarking,
'Ah! Cornelius Agrippa! My dear Victor, do not waste your time upon this; it is sad trash'.6
Victor was unimpressed with his father's lazy and disdainful attitude, however, and he continued to study Agrippa, as well as Paracelsus and Magnus.
I read and studied the wild fancies of these writers with delight; they appeared to me treasures known to few besides myself.7
But this thrill was not to last. Soon after young Victor witnessed an oak tree being destroyed by a lightening bolt. It just so happened that a man 'of great research in natural philosophy' was with him at the time, and he proceeded to explain to Victor some basics of electricity and galvanism. Victor was so impressed that for him, Agrippa and the occultists and alchemists and other 'lords of my imagination' were overthrown.8 He then determined to devote himself passionately to the study of 'that science as being built upon secure foundations, and so worthy of my considerations'.9 He later on is admonished by a professor of natural philosophy for having wasted time studying the nonsense of alchemists. But Victor is young, beneficial in this case because his youth prevents him from becoming too rigid. He retains some suspicion about the merits of modern science, and is not altogether convinced about the so-called fallacies of the occultists and alchemists. Concerning the contempt of his professors for the occult arts, Victor remarks, 'I was required to exchange chimeras of boundless grandeur for realities of little worth'.10 To counter this, another of Frankenstein's professors proclaims:
'The ancient teachers of this science [the occultists and alchemists] promised impossibilities and performed nothing. The modern masters promise very little: they know that metals cannot be transmuted and that the elixir of life is a chimera.'11
Victor later on meets up privately with this professor, who reveals his admiration and appreciation for Agrippa, Paracelsus, and their like, saying,
'The labors of men of genius, however erroneously directed, scarcely ever fail in ultimately turning to the solid advantage of mankind'.12
Victor then devotes himself wholeheartedly to the study of modern chemistry, at which he excels. He then learns how to vitalize and bring life to dead body parts, which in so doing, eventually leads to his creation of the monster, something he had originally hoped to be beautiful, but which turns out to be hideous. Disgusted, Victor abandons the monster. This monster is sentient, however, and is deeply confused, hurt, and angry at the isolated predicament he finds himself in. The rest of the novel basically centers on the monster's quest for vengeance (in so doing, murdering several people close to Victor, but not without first appealing to Victor to create a companion for himself, so as to relieve him of his great loneliness. Victor considers doing so, but decides against it). The novel ends with Victor, bent on destroying his creation, dying of illness on a boat in the Arctic. The monster is devastated by Victor's death, and vows to destroy himself. He jumps onto an ice raft, and disappears.
There are several important conventional themes in Frankenstein. These are:
1. The creation of life and sentient intelligence by the human hand, employing science.
2. The loss of control of this creation, and a general reflection on the dangers of science without adequate conscience.
3. Reaction to appearances, and the power of perception to mold our experience. (Victor Frankenstein is initially repelled by the appearance of his creation, and cannot overcome this reaction, leading to his abandonment of the creature, and its subsequent desire to seek vengeance for this).
The esoteric themes in Frankenstein are also there, if less obvious:
1. The need to distinguish between the inner sciences (occultism and alchemy in particular) and the outer sciences (chemistry in particular), by not confusing domains of experience and consciousness.
2. The esoteric meaning of the 'golem' and the 'homunculus'.
3. Overcoming mortality via the science of inner creation (the 'Body of Light').
4. The Gnostic theme of flawed creation, via the Gnostic myth of the Demiurge who created the universe, and the passive role of the 'true God'.
Occultism and Alchemy
These areas of study are notoriously misunderstood. On the one hand, there are the credulous who, lacking the capacity for critical thought (or angrily rebelling against it), are willing to embrace any paradigm, no matter how bizarre. Many of these may seem to conform to James Webb's view of occultism as a realm of refuge for those disturbed by the dehumanizing elements of science. Occultism, with its central philosophy of 'Man is a microcosm of God', seems a safe vanguard against the cold mechanicality of the hard sciences. (Copernicus, Galileo, and Darwin may have seriously diminished the importance of the human being in the cosmic scheme of things, but occultism and the great esoteric traditions are based entirely on Shakespeare's 'Man is the measure of all things').
On the other hand, there is the conventional academic view of occultism, alchemy, and related matters as little more than primitive proto-sciences, ignorant and base attempts to escape the dark dogmas of religion, but not yet at the intellectual honesty of 'true' science. This at times condescending perspective suffers from a surprisingly simple defect, that being the failure to differentiate domains of conscious experience (such as the subjective from the objective). It's as if it rarely or never occurs to those who put forth this view that real occultism and alchemy were about more than just primitive attempts to gain power by manipulating matter.
There are, in fact, several levels of understanding within the occult sciences; the most profound of these are best described as esoteric traditions. The word 'occult' simply means 'hidden' or 'secret'. The word 'esoteric' means 'inner', and in reference to spiritual teachings, refers to the inner teachings accessible to those ready to look deeper into their own nature. (Jesus even makes reference to this in the New Testament, when he says, 'He who has ears, let him hear…'). In the spiritual realm, that the 'inner' has frequently meant 'hidden' or 'secret' has been natural, if for no other reason due to the intolerance shown by the Christian church, in particular, down through the centuries toward esoteric teachings. These teachings became hidden and secret for a reason, a reality perhaps never better demonstrated than by the discovery of the famed Gnostic Gospels in a cave in Nag Hammadi, Egypt, in 1945, where they had been secreted away for some sixteen centuries to escape the book-burning edicts of the Church that began around the 4th century CE.
The essential difference between the esoteric paths (Gnosticism, alchemy, Kabbalah, and so forth) and mainstream Western religion (orthodox Jewish, Christian, and Islamic doctrine) is the role of the individual in relation to Divine. The esoteric paths aim to guide the individual into a realization of their true nature, which is viewed as ultimately being 'at one' with the Divine. Conventional Western religions do not teach this, and regard any such lofty spiritual ambition as both foolhardy and heretical. One of the great Christian mystics, Meister Eckhart (1260-1327), was declared heretical by Pope John XXII two years after his death, in part for 'revealing secrets' and in part for teaching the core esoteric doctrine that Man and God can be, essentially, One. For a person awakened to their true nature, Eckhart wrote 'There is no difference between him and God; they are one'.13
The occult tradition is ultimately about the study of the deepest truths of consciousness—essentially, the science of the inner realms. The word, however, has been notoriously tarnished, and in particular by the media of film and popular literature. Worse, it tends to get associated, consciously or not, with the word 'cult', even though the two words do not share a common etymological root. ('Occult' derives from the Latin occultus, meaning 'hidden' or 'secret'; 'cult' springs from the Latin cultus, a word with various meanings, including 'culture', 'worship', and 'reverence'). The word 'cult' in modern times is usually used in a pejorative fashion, essentially referring to any organized group that is demonstratively destructive, or more subtly, one simply disagrees with (or condemns).14
One of the more important branches of occultism down through the centuries has been alchemy. This is an ancient field of study and practice that has roots in China, Egypt, central Asia, and Europe. Alchemy is regarded by modern day science as the precursor of chemistry, and this is undoubtedly true to some degree. However alchemy has different levels to it. There is the strictly physical element that has been concerned with things such as manufacturing gold (more the European focus), or producing an elixir that could result in bodily immortality (more the Oriental concern). There is also the esoteric alchemy, concerned with spiritual transformation, in which the physical alchemical elements (sulfur, mercury, salt, and so on) and rich alchemical symbolism (green and red lions, dragons, hermaphrodites, etc.) are understood to represent psycho-spiritual realities and processes of personal initiation and transformation. This inner aspect of alchemy came to be increasingly abandoned, especially around the time Shelley was writing Frankenstein, in the wave of general excitement connected to the birth pangs of modern science. The Hermetic Order of the Golden Dawn (an occult society founded in 1888 by three London Freemasons) taught spiritual alchemy to some extent in its 'knowledge lectures', but it was the Swiss psychotherapist Carl Jung who openly rescued alchemy from oblivion in the mid-20th century, brilliantly revealing its symbolic depth and treating it as a means for psychological interpretation. (Jung wrote a great deal on alchemy, writings collected mostly in his works Psychology and Alchemy and Mysterium Coniunctionis).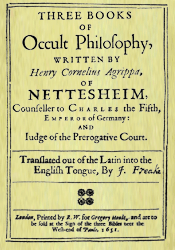 In the novel, young Victor Frankenstein initially embraced the occult arts, then waffles between them and modern chemistry, until finally coming over to the new science for good, leading up to the creation of his monster. The figures of occultism Shelley mentions in the novel were chiefly Agrippa, Magnus, and Paracelsus. Heinrich Cornelius Agrippa (1486-1535) was an important German magus, alchemist, and author of the vastly influential Three Books of Occult Philosophy (written by 1510, first published in complete form in 1533). The book is a massive Renaissance encyclopedia of ritual magic, and is the main source book for most significant schools of Western occultism since the 19th century.

One of Agrippa's chief predecessors was Albertus Magnus (1200?-1280), Dominican bishop, theologian, philosopher, and magus. Albertus died in Cologne, the same German city that Agrippa was born in, raising the possibility that the latter had paid homage, in his youth, to the tomb of the former (which can be seen to this day in the crypt of St. Andreas church), given how consumed with the occult sciences Agrippa had been at a young age—he wrote Three Books of Occult Philosophy at around twenty years old, similar to the age Shelley was when she published the first edition of Frankenstein. Albertus had been a marked influence on two pillars of Western civilization, the Italian poet Dante (and Mary Shelley was reading Dante when she was working on Frankenstein) and the Catholic theologian Thomas Aquinas (who had been a direct student of Albertus). In addition to being a religious 'authority', Albertus was a great scholar, considered one of the most widely learned men of his time. He is known to have embraced astrology as an occult science, although this is not unusual for his time, when astrology was held in the same esteem that astronomy is today.

Paracelsus (1493-1541, seen on the right)—whose full name was the marvelously bombastic Philippus Aureolus Theophrastus Bombastus von Hohenheim—was an important Swiss botanist (considered the first), alchemist, occultist, and philosopher. Though is generally credited with being one of the key figures bridging ancient physical alchemy with the first glimmerings of modern chemistry, he was firmly within the paradigm of the Renaissance wizard conjuring up great things in his laboratory.
An interesting folktale has been noted by some literary critics: Albertus allegedly discovered an alchemical elixir (a version of the 'philosopher's stone') that he used to bring a brass statue to life. This statue, a type of robotic-servant, eventually learned speech but became a talkative nuisance and was, one day, destroyed by a vexed Thomas Aquinas with a hammer.15
Victor Frankenstein is very much modeled on the figure of Paracelsus (and to a lesser degree, Agrippa). And as we shall soon see, that connection is no accident, as Paracelsus had an interest in the creation of the artificial entity—an idea bearing notable resemblance to Shelley's monster—known as the homunculus.
The Homunculus
The term 'homunculus' is Latin for 'little human'. Its origins are connected to the idea of a miniature, yet fully formed, life form. The root here is the philosophical notion found in early biology called preformationism, which is the idea that the form of an organism exists first, in miniature (a sort of physical parallel of Plato's idea of the prototypical 'forms' that exist as archetypal templates on subtle, invisible levels of reality). For example, preformationism held that inside of a sperm cell exists a tiny, fully formed human body. It was speculated that when the sperm entered a woman, this 'tiny human' simply grew into an infant eventually ready for physical birth. However, someone eventually deduced that if this tiny person (homunculus) was fully formed, it too must possess sperm which in turn would contain yet more little fully formed human bodies (homunculi). As in the Hindu myth of the world being supported on the back of a turtle, it would then be 'turtles all the way down' (what supports the turtle? Another turtle, and so on). Such an idea is, naturally, absurd.
(This in turn extends to something called the 'homunculus fallacy'. It is the idea that we cannot truly argue that a 'person' exists inside of us deciding which thought to have at any given moment. For example, we think of a tree. Where did this thought come from? From the 'person' inside of us who decided to have this thought. But then how did this 'inner person' come to create the thought that we as the 'outer person' register as 'thinking about a tree'? It must be because there was a yet 'smaller' person inside of the 'inner person', deciding to think about a tree. And so on, ad absurdum, in what is called an 'infinite regress'. Clearly, there must be a point where the thought of a 'tree' simply appears, without being generated by any 'inner person').
The idea of the homunculus is found in Renaissance-era alchemy, and in related fictional works, such as Goethe's Faust, where Faust's student (Wagner) creates a homunculus to perform certain tasks. Goethe likely got the idea from Paracelsus who made mention of it in his writings. Paracelsus had laid out a primitive formula for creating a homunculus, based on a mixture of putrefied semen, horse manure, and human blood. As a proto-scientist he was attempting to show that he could create life, and useful life at that (not dissimilar to a modern engineer constructing a robot). In so doing, he was trying to naturalize the supernatural approach to the creation of magical creatures. (On the physical level he of course failed, and in 1859, Louis Pasteur proved that spontaneous generation—life from inanimate matter—is impossible. However the question of where life ultimately originated from is of course unresolved).
The Golem
The idea of creating an artificial person from dead matter has a precedent in a number of old magical traditions, but was especially developed in the Jewish mystical tradition, where it was called a 'golem'. (The name of Tolkien's strange creature from The Lord of the Rings, Gollum, was probably taken from this). The word translates from Hebrew as 'shapeless mass' or 'imperfect substance'. The typical idea of the golem, as originally found in Jewish magical folklore in 13th century Germany, was that it was an artificial life form created to serve a magician or wizard. The modern technological equivalent of this would be a robot or machine constructed to serve a human. Some of the old Kabbalistic sources maintained that the golem could be given vitality by a human, but not 'spirit' or 'soul', a view that would seem to accord with comparisons with modern-day robots.16
The golem was believed to be activated by the power of specific magical words, and deactivated in a similar fashion. Some legends had the Hebrew word emet ('truth') inscribed on the forehead of the golem, which activated it; in order to deactivate it, the first letter (alef) of the word emet was removed resulting in the word met ('dead'). (The usage of special words to activate/deactivate the golem is reminiscent of the code-writing behind computer programs).
According to Kabbalah scholar Gershom Scholem, there is no real evidence from any of the early sources that the golem was used for any actual practical purposes. It was seen more as a symbolic act of creation, a demonstration of mastery of inner power brought about by mystical awakening.17 It was in some respects similar to Paracelsus's attempts to create a homunculus, and thereby demonstrate 'God-like' powers.
In the Talmudic tradition, Adam was recognized as the first 'golem', until his body was instilled with a soul. (In Genesis, the first human, Adam, is created from earth and breath. God fashions him from the dust/mud/earth, and then breathes life into his nostrils. The earth is the body; the breath is Spirit/soul/consciousness). The word 'golem' occurs once in the Hebrew Old Testament, in Psalms 139:16. The English translation is:
Thine eyes did see my substance, yet being unperfect; and in thy book all my members were written, which in continuance were fashioned, when as yet there was none of them. (KJV)
The Contemporary English Version offers a more comprehensible if less poetic translation:
but with your own eyes you saw
my body being formed.
Even before I was born,
you had written in your book
everything I would do.
It is homage to God, as the supreme Creator of life. In some ways, it refers to the ultimate mystery, the creation of life from non-life; or the creation of something from nothing. This interpretation gives the key to a closer understanding of the spiritual meaning behind the symbolism of the golem or homunculus; and by extension, with the debasement of the idea, symbolized by Frankenstein's monster.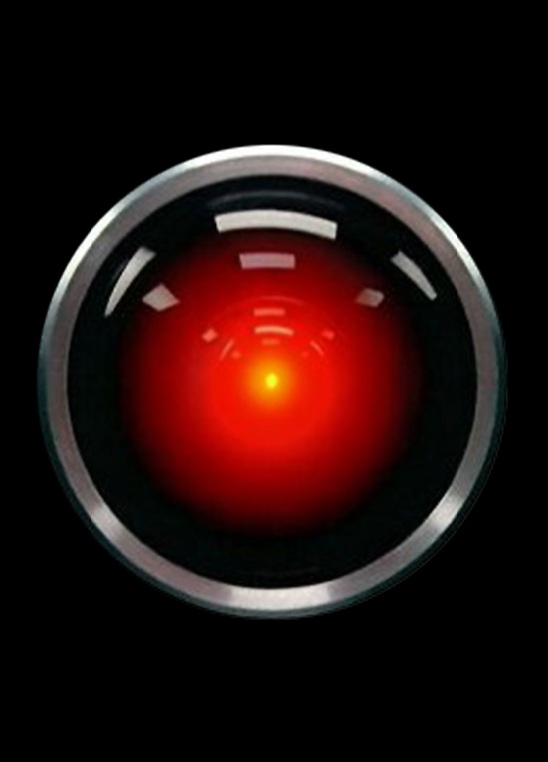 In the iconic 1969 science-fiction film 2001: A Space Odyssey (one of Stanley Kubrick's masterpieces, based on a short story by Arthur C. Clarke), an advanced supercomputer, called HAL9000 ('Hal' for short, his iconic image shown on the right), accompanies a small squad of astronauts on a lengthy journey to Jupiter. Hal eventually malfunctions and turns against his masters, killing all but one. The remaining astronaut successfully deactivates Hal toward the end of the movie, before himself going on a journey through a type of 'stargate' or inter-dimensional portal.
Hal is the classic modern (or futuristic) version of the technological 'golem' gone bad. Mary Shelley's tale has been seen by some as a morality play cautioning against the dangers of aggressive and single-minded 'masculinist science'—a speculation finding some support from the fact that Shelley's mother, Mary Wollstonecraft (1759-97) was a founding figure of modern women's liberation (her best known publication being A Vindication of the Rights of Woman).18 But Shelley's fable ultimately points toward something much more subtle than that.
Resurrection and The Body of Light
The Jewish golem and the alchemical homunculus have in common the idea of artificial creation, and in specific, the ambition of a human creator to attain God-like power via the act of creating a person, or person-like entity, himself. It symbolizes, in some respects, the culminating act of the magus or wizard: to co-create with God.
In many Gnostic and esoteric traditions a serpent, or specifically, the serpent from the Book of Genesis, is understood to be a key teacher. According to these esoteric teachings, the serpent is a figure much maligned in many mainstream religions, where it is confused with an evil principle involved in misguiding the human race. A key to all this can be found in the well-known section of Genesis where God warns Adam and Eve not to eat a particular fruit in the Garden of Eden. Eve goes so far as to report this warning to the Serpent, adding that God specified not to eat fruit from the specific tree in the middle of the garden. The Serpent then takes it upon himself to countermand this edict, declaring,
…You will not surely die. For God knows that in the day you eat of it your eyes will be opened, and you will be like God, knowing good and evil. (KJV, 3:4-5).

This passage as well as any captures the underlying aim of the magical, occult, and esoteric traditions. A wizard is a 'wise person'; a magus is one who serves the divine by being attuned to it. Even the Eastern term 'swami' means 'lord of himself'. The point of the esoteric path is to confront, embrace, and master all elements of oneself, in so doing awakening to the highest principle of Being, what is sometimes known as the 'higher self', 'soul', Holy Guardian Angel, or via many other appellations.
The famous Hermetic maxim is as above, so below. This expression is understood by occultists to denote many things, but above all it refers to the idea that a person is a miniature image of God, holding latent within all the potential of the Divine. Recall from our discussion above that the homunculus is a miniature version of a person. In the Hermetic view, a person is therefore a type of 'homunculus of God'. As the person is created by God (according to traditional theism), so too a wizard can create a life-form, and thus demonstrate God-like capacity.
This, however, is the corrupted or debased understanding of the Hermetic principle, and Mary Shelley provided a vivid allegory of what happens when this debased principle is pursued single-mindedly.
The uncorrupted esoteric element found deep within Shelley's Frankenstein in latent form is the idea of the creation of the 'Body of Light'. This is a concept that appears in many esoteric traditions, both West and East, and it is generally connected to the intention to enable easy transition for the soul from the death of the body to the journey into the Afterlife and beyond.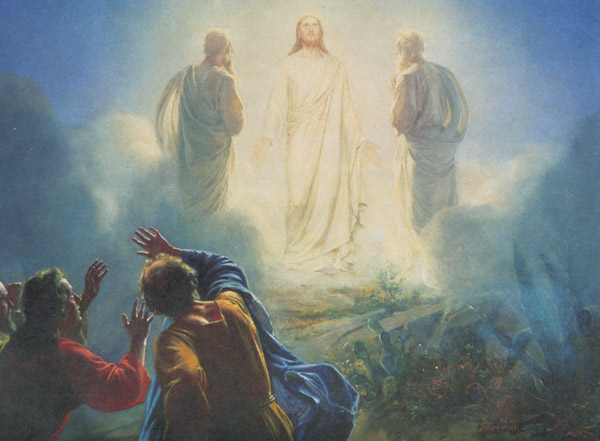 It was the ancient Egyptians who created an entire religion around conquering death, most clearly shown in the myth of Osiris, the resurrected god. This idea of resurrection appeared in other traditions, but most essentially in Christianity, via the mythology of Easter and the legend of the risen Christ via his 'ascension body'. Christ's Body of Light was also suggested in the well known 'transfiguration scene' (Mark 9:2-3):
Now after six days Jesus took Peter, James, and John, and led them up on a high mountain apart by themselves; and He was transfigured before them. His clothes became shining, exceedingly white, like snow, such as no launderer on earth can whiten them. (KJV)
The idea of the Body of Light is also found in many Eastern traditions, where it is given names such as the Diamond Body, or the Rainbow Body. It can be thought of as a form of subtle energy that is created by a practitioner of inner spiritual sciences. We are not simply born with it. (The Greek-Armenian mystic G.I. Gurdjieff was referring to this when he maintained that we are not born with a soul, but rather must create one by our spiritual practices). Above all, it represents the ability of awakened consciousness to exist independent of material reality.
Esoteric practitioner Dolores Ashcroft-Nowicki described it this way:
'…There is another form used by some magicians, the Body of Light. Some think that it is the same as the astral body, but it is in fact quite different. The astral is an etheric form common to everyone, a [Body of Light] is acquired through practice and concentration. The Body of Light is deliberately built for a purpose…it is not easily formed, some people never manage it, or at least not fully, and once it is formed it can be troublesome, and requires firm handling.'19
On one level, the Body of Light can be thought of as symbolic of the accumulation of our purity of intent. It is the 'vehicle' that enables our return to primordial unity with the source of consciousness. It is the 'inner body' of wisdom and awakened consciousness. The polar opposite of this—what may be called the debasement of the principle of transcendence—is an artificial 'outer body'. In effect, a monster.
The Body of Light, or the Resurrection Body, is based on the essential idea of the spiritualization of matter. This is ultimately brought about not just by pursuing arcane esoteric practices, but more importantly by mastering our lessons on planet Earth. We do not 'graduate' to higher levels of being by escaping this world, but by embracing our lessons in total.
Gnostic Wisdom
The 'golem' carries profound symbolism, and this can perhaps best be understood via certain Gnostic ideas around the creation of the universe. According to most Gnostic traditions, the 'true God' did not create the universe. It was created rather by a lesser being, an archangel named Ialdabaoth, who is sometimes identified with Yahweh of the Old Testament. Most Gnostic traditions have Christ entering the world as cosmic Redeemer, enabling souls 'trapped' in the matter of this 'flawed' universe to return to the primal and perfect Unity of the true God.
What do we make of this seemingly strange myth? At quick assessment, it's not difficult to sympathize with the reasoning behind it. It will be apparent to at least some objective observers that the universe is anything but 'heavenly', based as it is on cold laws of physics and equally harsh biological realities (such as organisms being required to eat other, often protesting, organisms in order to survive). Destruction and death is part of the fabric of our reality. It is perfectly reasonable (whether true or not) to argue that a 'perfect' God would not create such a reality.
But that does no good for the existential reality we find ourselves in. We have to 'deal with' the life we are living, and the universe we find ourselves part of—warts and all. That said, the key point is to understand how we are in fact 'dealing with' this reality. How exactly do we construct our perception and experience of it, and how exactly are we comporting ourselves within this constructed experience?
To generate delusions and illusions with faulty thinking is, in effect, to create a 'monster' reality in which to live. Gurdjieff referred to this as 'the terror of the situation'. In short, most of us are either asleep or crazy, or some combination of both. The reality we have constructed, both individually and collectively, is a pitiful semblance of our almost limitless potential. For most of us there is nothing 'spiritual' about our actual existence, and that is true even for many who fancy themselves on some sort of 'spiritual path'.
The monster in Frankenstein, grimacing and angry as he stumbles about seeking revenge on his neglectful master, can be seen as a type of allegory of our generally debased spiritual condition, as well as our unconscious attitude toward God (and even lesser symbols of authority). In conventional Western religious paradigms (Judaism, Christianity, Islam) God is absolutely external to the personal self, even from the 'soul' of the individual. From this perspective, there is no room—none at all—for negotiating any sort of 'Oneness' with God. The only approach to the Lord is via surrender, or more pointedly from our egocentric perspective, via submission. Apologists for this position argue that our ego-centricity is too deep, too 'hardwired' into us, for any other approach to work. The Lord created us, and we must never forget this. 'You shall have no other gods before me'.
The Western esoteric traditions—essentially Jewish Kabbalism, Gnostic Christianity, and Islamic Sufism—propose a different paradigm, one that describes Reality as being ultimately non-dualistic. That is, our true and ultimate nature is at One with God. The ultimate purpose of the 'spiritual path', via whatever route and whatever disciplines, is to realize this Oneness. Most of these esoteric traditions do acknowledge, however, that this path is extremely difficult to navigate successfully to the end, being fraught with the temptations common to the egocentric self, and with the sheer difficult of facing up to the depths of our egocentricity (necessary if we are to overcome it and penetrate the 'veil' between our conventional self and our divine condition).
I am not here concerned with comparatively evaluating the pros and cons of the orthodox religious paradigm (God as the Supreme Separate Being) or of the esoteric paths (we are God at the inmost core of our being). What interests me more is seeing the ways in which spiritual paradigms (including all grotesque distortions) are propagated into society by means other than standard religious education.
Memes and the Monster Legacy
A 'meme' is an idea that transmits within society from person to person (the term was coined in 1976 by biologist and noted atheist Richard Dawkins; he derived it from the Greek mimema, meaning 'something imitated'). It could be said to be a type of education via word of mouth. Any self-employed person knows that the most effective form of advertising is word of mouth (as does any large-scale corporation, despite how much they may spend on standard means of advertising). Along with fictional literature, the movie industry has always been a powerful generator of memes, and in our current age of advanced communications and social networking, memes appear and disappear on a weekly basis (and some of them even stick).
Certain memes generated by the movie industry have effectively worked to obscure teachings from the esoteric traditions. The original monster from Shelley's book was talkative and intelligent, and able to move quickly and fluidly. The movie monster, deriving from Karloff's stiff-limbed lumbering and hideous behemoth, appears anything but. Shelley's monster was sensitive and introspective (and literate; it had even read Milton's Paradise Lost), and its main quest was for love and union with a mate. From the beginning of its creation it experiences nothing but rejection, first from Dr. Frankenstein, and later from every other human it meets. This constant rejection leads the monster to vengeance and murder.
In the 1931 film, the monster is mute, and remained more or less so in all subsequent sequels, except for the first of these (the 1935 Bride of Frankenstein, where the monster learned limited speech. It was once again mute in the follow up sequel, the 1939 Son of Frankenstein). What was originally an allegory about misguided creation, rejection, vengeance, and a vexing and troubling quest for meaning, became, via the Silver Screen filter, an exercise in base fear and primitive aggression. Shelley's thoughtful and sensitive creature descended into a murderer in her novel, but it was fundamentally intelligent—and had been created by a man who was versed in both science and the mysteries of ancient occultism. The movie monster was mostly a vehicle for freakish frightfulness.
The Frankenstein myth has spawned many modern versions of the golem or closely related ideas—a good example being The Norliss Tapes (1973), an obscure (but memorable) horror film about a writer who, while researching a book, is contacted by a recently widowed woman. The woman's husband, an artist, has been 'coming back to life' recurrently as a grotesque zombie. In between his zombie night-prowls and his retreating back to his crypt by day, he is creating a type of golem—an artificial man constructed from clay. The zombie-husband works on this golem right up to the end of the film when he and the golem are destroyed by the private investigator who traps them in a circle of blood and fire. Vague references are made a few times in the film to ancient Egyptian mythology, but these are never elaborated on (much how Shelley never elaborated on the occult teachings of Agrippa or the alchemy of Paracelsus).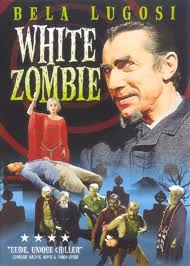 Technically speaking Frankenstein's monster was not a zombie, as a zombie is a corpse brought back to life. Frankenstein's monster was never a whole life form; it was a revived amalgam of a number of dead parts. But the relation between the two is very close and the shared symbolism is clear enough. A zombie is brought to life via occult means; Frankenstein's monster arose from Victor's science which was so obscure, it was in effect occult magic. (Recall Arthur C. Clarke's famous proclamation, 'Any sufficiently advanced technology is indistinguishable from magic'). Zombie films first appeared in the early 1930s, with Victor Halperin's White Zombie (1932) generally recognized as the first (appearing one year after the Karloff-version Frankenstein). The Zombie theme probably reached its most iconic expression in George Romero's Night of the Living Dead (1968), a film initially deplored by critics for its gore, but which eventually achieved cult status and in 1999 was chosen, along with twenty-five other films, to be preserved in the National Film Registry for its cultural significance.20
White Zombie featured the iconic Bela Lugosi (1882-1956, known for his Dracula portrayals), playing a Haitian 'voodoo wizard'. In some respects, this was the beginning of Hollywood's mischaracterization of yet another spiritual path, Haitian Vodou (which arose as a synthesis of West African Vodun, tribal traditions indigenous to the Caribbean, and Roman Catholicism). Vodou is based on belief in an unknowable Supreme Being (called 'Bondye') who is not available to this world (similar to the Gnostic 'true' God, called the 'Pleroma'). Lesser deities, called Loa, are accordingly supplicated to. Vodou is mostly a benign faith, although within the cultures that practice it there do exist sorcerers known as bokors who have as part of their practice the creation of 'zombies'.
The notion of the dead 'returning' to life is of course not an invention of 20th century Hollywood. It was famously depicted as far back as the New Testament, in the scene immediately following the death of Jesus on the cross:
Jesus, when he had cried again with a loud voice, yielded up the ghost. And, behold, the veil of the temple was rent in twain from the top to the bottom; and the earth did quake, and the rocks rent; And the graves were opened; and many bodies of the saints which slept arose, And came out of the graves after his resurrection, and went into the holy city, and appeared unto many. (Matthew 27:50-53).
There was also Jesus' revival of Lazarus, and the ascension story itself. In all cases, the 'dead returning to life' has two essential meanings: the spiritual, which has to do with awakening from the realms of ignorance via conscious work on self, and the refinement of one's inner energies as a result; and the debased version, which is the mere manipulation of matter, minus any introspective element.
Prometheus, Lucifer, and the Divided Man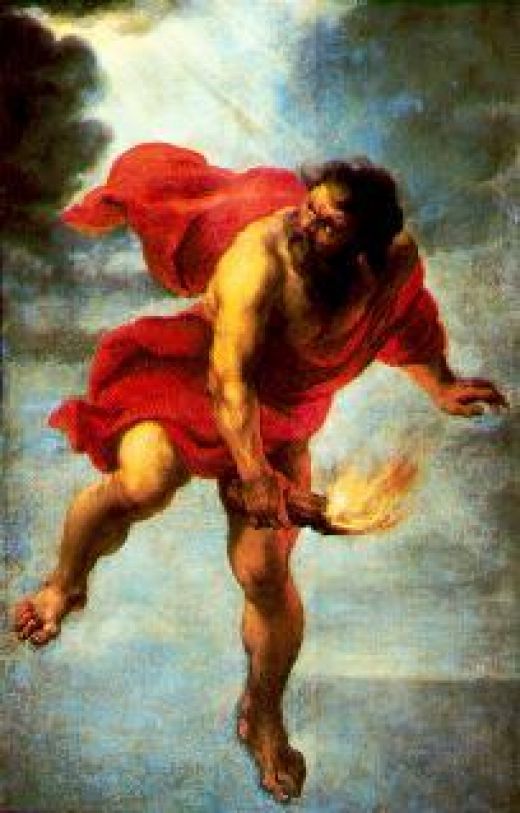 Prometheus is the archetypal 'over-reacher', in the mold of Lucifer, one who seeks and obtains great power, only to be consumed and destroyed by it. In the Greek myth Prometheus tricked Zeus in a misguided effort to challenge him, which resulted in an angry Zeus with-holding fire from humanity. Prometheus then 'stole fire' from Olympus and gave it back to humanity, which enraged Zeus further. He responded by sending Pandora, the 'first woman', to wreck havoc on humanity as retaliation. Pandora was alleged to have been created from clay (much how the Sumerian goddess Ninhursag was believed to have created human beings from clay). Later myths have Prometheus himself fashioning the human race out of clay. Prometheus is considered a champion of humanity, but also a trickster figure who is ultimately something of a mixed blessing.
Shelley himself was involved in the writing of his renowned play, Prometheus Unbound (published in 1820) around the same time that his wife was writing Frankenstein. For Percy Shelley, Prometheus was more hero than trickster. In his play Shelley reworked the Greek myth, and had Prometheus overcome Zeus, symbolizing the victory of intelligence and human creativity over heavy-handed institution and tyranny (as represented by Zeus). The Romantic poets—Shelley, Keats, Byron, Blake, Wordsworth, Coleridge, etc.—exalted the idea of the rebel who opposed the rigid and passionless ideals of the Age of Reason and its spawn, the Industrial Revolution.
There are important connections between Prometheus, Satan of Milton's Paradise Lost, and Frankenstein. Mary Shelley, as with her husband and other key Romantic poets of the time (such as William Blake) accorded great importance to the figure of Satan in Milton's epic poem (published in 1667). Milton's Satan was originally Lucifer, most dazzling of the archangels, but jealous of his cosmic brother Christ. Lucifer launched a rebellion against God and the hosts of Heaven, which ended in dismal failure and landed him in Hell, transformed into Satan (the word is Hebrew for 'adversary'). Here he begins his work of 'tempting' and misguiding humanity (initially as the Serpent in Genesis).
Some critics have advanced the idea that Dr. Frankenstein corresponds closely to Lucifer—a true rebel seeking to establish his own utterly unique identity via his radical experiments and creation—and that the monster is an analogue of Satan. The transformation from beauty to ugliness was described by Shelley giving voice to Victor as he beheld his hideous creation:
I had worked hard for nearly two years, for the sole purpose of infusing life into an inanimate body…but now that I had finished, the beauty of the dream vanished, and breathless horror and disgust filled my heart.21
In one respect, this passage is the most important in the book, for reasons we will now delve into.
A central understanding of Frankenstein is that the monster and its creator are two elements of the same self. Some earlier literary critics observed that the subtitle of the book—the Modern Prometheus—underscores the essential split in Man (a split that, according to critic Harold Bloom, was very evident in Shelley's husband Percy Shelley and Lord Byron, her two greatest influences).22
What is the nature of this 'split'? Many critics who mention it (including the famed Bloom) do not really explain it precisely. Vague allusions are made rather to the dual nature of Prometheus (who, like the Trickster figure, is both helpful and a hindrance—retrieving fire from Olympus to aid humanity, but pissing off Zeus in the process who then vengefully brings more suffering to humanity). Sometimes the 'split' is grossly simplified as between that of the 'head' and the 'heart'. But these skirt around the main issue, which is the split between spirit and matter, and more specifically, the division between consciousness and perception.
Dr. Frankenstein rejects the creature that he has created for what is, in truth, a rather ignoble reason: because the creature is ugly. Or, more to the point, because he perceives the creature as ugly—'breathless horror and disgust filled my heart'.
Mystics throughout the centuries have recognized that attachment to sensory perceptions is the great distraction that keeps us chasing rainbows in material reality, keeps us busy engaged in an interminable game that always has the same overall result: we remain oblivious to our higher spiritual potential. What is this higher spiritual potential? What most wisdom traditions agree on is that it boils down to the direct recognition of our inmost nature as pure consciousness.
The power of sensory perceptions is that they have the ability, in conjunction with our mental processes, to 'construct' a reality in which we come to believe that our nature is separate, discrete, and fully and utterly contained within, and limited to, physical form. In short, we come to believe that we are nothing more than our body. If we believe that about ourselves, it is natural to believe that about others. If Victor flees his creature because he visually perceives him as hideous, it can only be because Victor automatically believes that the creature is intrinsically hideous. After all, how could this monster be anything other than his grotesque outer form?
That may seem obvious within the context of a horror story, or even within a story of science (or magic) gone bad, but the more subtle point is that we are all engaged in the process of 'making real' our perceptions of reality to the point that we lose all awareness of the one who is perceiving. Much as a movie-goer sits awestruck or lost in the movie they watch, marginally (if at all) conscious of themselves as watcher, so too we lose ourselves in the contents of our life, rarely aware of our actual nature as the consciousness that is witnessing all this—much how we lose all awareness of ourselves as dreamer at night, lost completely in the 'reality' of the dream content.
The Egyptian Mysteries and the Second Death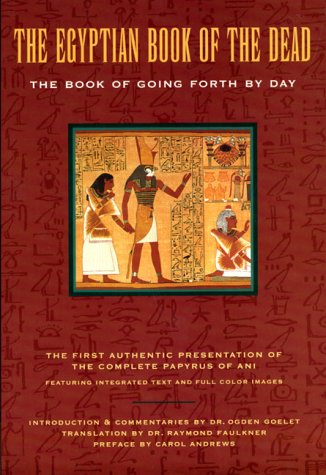 An idea that crops up in many esoteric teachings is the idea of the 'second death'. This is connected to the view that a human is essentially a threefold structure: body (matter), soul (personality, essentially), and spirit (pure consciousness). When a person dies, their material body decomposes and is dispersed. Their subtler aspect (mind and spirit) then enters a type of 'in-between' dimension referred to in different ways—the Pyramid Texts of ancient Egypt (from which derived The Egyptian Book of the Dead) called it the 'realm of Osiris'; Plutarch of 1st century C.E. Greece designated it as the domain of the Moon (or 'sublunary'); in Christian tradition it is 'purgatory'; in The Tibetan Book of the Dead it is called the bardo (which literally means 'intermediate state'), and so forth. What most of these traditions agree on is that a person who has shed their physical body spends a period of time in this 'in-between' dimension undergoing various forms of purification (though according to Tibetan Buddhism, this really amounts to an elaborate dream-world in which we experience the momentum of our habits and various delusions). The 'second death' occurs when our time in this in-between realm is complete, and we pass on to the higher realms, which are sometime connected to the ideas of the 'Celestial' or the Sun. (Some of these traditions have the essence of the person reincarnating into a new body on Earth without ever passing on to the 'higher' realms).
The idea behind initiation, or work on self, or creation of the Body of Light, and so on, is ultimately connected to the idea of experiencing the 'second death' in advance, on Earth, before our physical body has expired. In so doing, the person can pass with greater ease through the intermediate realm after the death of the physical body, and so proceed to the Celestial realms of unobstructed consciousness, light, and freedom, bypassing needless suffering and struggle.
The ancient Egyptians in particular provided a comprehensive model of the soul of a person, viewing it as comprised of nine important aspects. These were called the khat (body), ku (reason), khaibit (shadow), ab (heart), ba (soul), ka (double), sab (spiritual body), ren (name), and sekhem (vital force).23 In the context of this chapter, of greatest importance here is the ka, or double. In much of literature the 'double' represents a split-off part of a person, often little more than a characterization of Jung's 'shadow self', which embodies the denied and repressed elements of the individual's personality. In the esoteric wisdom traditions the 'double' points toward a higher ideal, that of the 'guardian angel', which is ultimately understood to be the higher self of the person.
The Egyptians often depicted the ka as a second image of a king, hence the connection with it as a 'double'. According to myth, the ka of a person was breathed into them at birth, instilling their body with life and consciousness. (Compare that to the Biblical God who breathes life into Adam). The process of spiritual awakening may be likened to re-identifying with our inner reality, which is pure spirit, or pure formless consciousness.
What obstructs this process is identification with matter (form). Dr. Frankenstein and his monster have been thought to represent many things: everything from aggressive science minus a conscience, to the inner division—the Jekyll and Hyde split of the mad scientist and his creation—within a human being. In terms of esoteric teachings, however, they are good symbols of the resulting ruin and suffering that arises from ignorance of our inner spiritual nature. Victor Frankenstein sought to engineer a creation for his own purposes, but it was a material creation animated with electrical force, a poor copy of the process of spiritual creation that unfolds within us as we set our intention to realize our higher nature. His repugnance with the form of his own creation caused him to reject it. This rejection in turn triggered a series of destructive events that led to everyone's demise. It's all a powerful metaphor for what happens when we lose ourselves in concrete material form, oblivious to the subtle, the deep, and the higher. What Victor did to his creature, and his creature in turn did to others, is what we do to ourselves and our world when we fail to look beyond the surfaces of self, other, and universe—in short, when we fail to look beyond appearances, in so doing failing to transcend mere perception.
Notes
1. Mary Shelley, Frankenstein: or, The Modern Prometheus (London: Penguin Classics, 1985), pp. 47-48.
2. Ibid., p. 60.
3. Nevill Drury, Stealing Fire from Heaven: The Rise of Modern Western Magic (New York: Oxford University Press, 2011), p. 3.
4. Shelley, Frankenstein, pp. 57-58.
5. Ibid., p. 62.
6. Ibid., p. 87.
7. Ibid., p. 88.
8. Ibid., p. 89.
9. Ibid., p. 90.
10. Ibid., p. 95.
11. Ibid., p. 96.
12. Ibid., p. 97.
13. Joscelyn Godwin, The Golden Thread: The Ageless Wisdom of the Western Mystery Traditions (Wheaton: Quest Books, 2007), p. 68.
14. www.etymonline.com/index.php, accessed June 20, 2011.
15. Martin Tropp, Mary Shelley's Monster: The Story of Frankenstein (Boston: Houghton Mifflin, 1976), p. 56.
16. Gershom Scholem, Kabbalah (New York: Meridian, 1978), p. 353.
17. Ibid., p. 352.
18. The BFI Companion to Horror, edited by Kim Newman (London: Cassell, 1996), p. 122.
19. Dolores Ashcroft-Nowicki, The Ritual Magic Workbook: A Practical Course in Self-Initiation (New York: Red Wheel/Weiser, 1998), p. 153.
20. http://articles.cnn.com/1999-11-16/entertainment/9911_16_natl.film.registry_1_film-registry-national-film-preservation-act-lists-of-favorite-films?_s=PM:SHOWBIZ (accessed June 20, 2011).
21. Shelley, Frankenstein, p. 105.
22. Harold Bloom, Bloom's Modern Critical Views: Mary Shelley (Philadelphia: Chelsea House Publishers, 1985), p. 2.
23. There is not always a general consensus among Egyptology scholars about the precise meanings of these terms. I am here following Arthur Versluis, generally recognized as one of the more eminent scholars in this field. See Arthur Versluis, The Egyptian Mysteries (New York: Arkana, 1988), pp. 52-53.
Copyright, P.T. Mistlberger, 2011, All Rights Reserved.

_________________________________
The Role of Darkness on the Spiritual Path
by P.T. Mistlberger

Sometime during the 8th or 9th century CE, a great Tantric adept named Padmasambhava made a hazardous journey from India to Tibet. This teacher's task was enormous, it being no less than the seeding and nurturing of a spiritual tradition, Vajrayana (Tantric) Buddhism, in a hostile land peopled by warring and xenophobic tribes, a tradition that was radically and threateningly different from the Bon shamanism that was indigenous to Tibet at that time.

Of course, nobody likes their territory being suddenly usurped, even most spiritual teachers. And so, when Padmasambhava got to Tibet and went about trying to do his thing, he did not receive a very warm reception, and after refusing to leave, had negative energies unleashed upon him by the Bon sorcerers. At this point the great Tantrica did a very interesting thing: instead of fighting or 'flighting', he stood his ground and, legend has it, tamed and 'converted' the demons into guardians (Dharmapalas) of the Tantric teachings. The legend further continues that this accomplishment afforded the opportunity for these entities to work off much of their 'terrible karma', by utilizing their tremendously powerful energies in the service of something spiritual and constructive.

How did Padmasambhava do it? Esoteric technicalities aside, he must have been an extraordinarily courageous person -- one might want to say, fearless. In the Tibetan mythos, he was described as having the ability to manifest different forms, some of which appeared as ferocious, bug-eyed gargoyles, such as Dorje Drolu, in order to "meet fire with fire." Hence, it was not by any act of saintly sweetness that Padmasambhava was able to tame these Fierce Ones. Rather, he manifested the active, fiery face of Compassion, which is inherently involved and challenging in its expressions.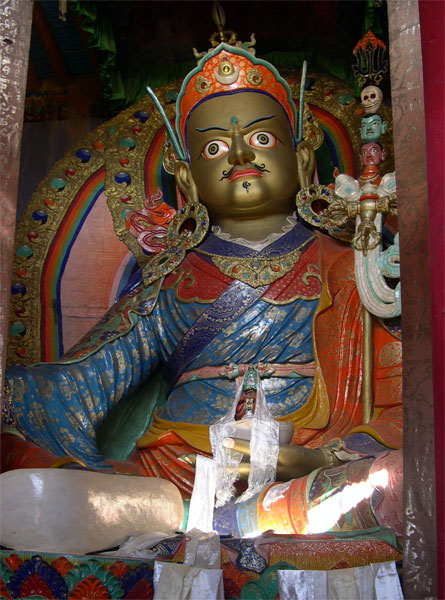 Statue of Padmasambhava at Hemis Monastery in Ladakh (extreme north India, geographically part of the Tibetan plateau). I visited this monastery in 1985.


Of course, this still doesn't answer the question. For "fighting fire with fire," as we know from our own lives, fails miserably all too often. Rather, all this has to do with the internal process of dealing with negative energy. Padmasambhava could manifest such fiery Compassion only because he had a right relationship with his own dark side -- in short, he had integrated it, and thereby transcended it. To get a better handle on what we are talking about here, imagine Jesus for a moment storming into the temple to chase out the moneychangers. Or picture Confucius, fleeing from a meeting with the Taoist master Lao Tzu, claiming dazedly afterwards that "Today I have met a dragon." Or look for a moment into the flaming eyes of black Kali, a Hindu form of the Goddess, as she dances on the corpse of a being who symbolizes dullness, weakness, and lack of commitment.

In the spiritual domain, it is something of a well known phenomenon that light (consciousness) doesn't just attract light, it also attracts darkness (unconsciousness). Hence whenever a particularly strong spiritual teacher, who embodies a degree of radical clarity, has shown up somewhere on the planet, or where a community attempting to collectively awaken has blossomed somewhere, it is generally only a matter of time before the apparent 'forces of darkness' show up on the scene. These 'negative energies' may come in many different guises, but the bottom line is that they usually manifest as some sort of internal breakdown, betrayal, pollution of, or offensive on, the original teachings and/or collective intention. In short, everything ultimately fails, or is a greatly diminished by-product of what it originally set out to become. Historically, one has only to look at endless examples of this: the destruction of Buddhist universities in north India at the turn of the millennium by Islamic hordes; the burning of the famous library of Alexandria; the strange disappearance of possibly advanced Mayan and Egyptian civilizations, for reasons which appear most likely to do with internal corruption; the genocide in Tibet at the hands of communist China, including the intentional destruction of thousands of its monasteries, housing ancient books and priceless art; the burning of thousands of innocent pagans (and non-pagans) during the European Inquisitions; the destruction of advanced Islamic centres of civilization by Mongolian marauders and Christian crusaders; the murders of Christ, Socrates, Mansoor, and so on.
All of this can be looked at from two angles. First, that impermanence is part of the fabric of existence, so why gripe about a few villages turning to sand dunes, some scriptures getting burnt, some artwork being defaced, or a few masters getting crucified? One might even argue that such things had it coming anyway, and that this is a natural way of getting rid of pretentious, dated, dusty, or self-important phenomena. There is doubtless an element of truth to this, in the sense of lightening-generated forest fires clearing the way for new ecological growth. But this line of thinking carried too far begins to lose touch with perspective, let alone compassion.
However, instead of concerning ourselves with the causes behind the fate of spiritual realizers and their communities, a better concern is to look within, and while we're at it, to take a hard, critical look at the famous new age maxim 'the perfect thing always happens.' That is ultimately true, but is usually not understood. We cannot see how 'the perfect thing is always happening' until we first see the degree to which we think we can exercise real choice, when in fact, in our typical unconscious, inwardly divided state, we cannot. That is, we must first honestly uncover and expose our cherished illusions.
Herein we enter into the great dilemma: the problem of Free Will. What is typically said is that what makes our souls human is the capacity for choice. This is supposed to be what differentiates us from the angels or other-dimensional intelligences (if we allow, for a moment, that such may exist). The entire ascension of Christ, and its attendant mythology, appears to be based on the incontrovertible power of choice, in that his final statement on the cross, allegedly 'it is accomplished,' is testament to the ultimate decision to realize his divine condition (as consciousness attuned with the Infinite). Likewise with Gautama Buddha, his six year ordeal culminating with his awakening under the Bodhi tree, appears to be a series of choices made in the direction of greater and greater insight into the insubstantiality of the ego-self.

Which brings us to the myth of Lucifer, the great "light bearing" Archangel. Several mythologies, most notably those deriving from Persian sources, recognize him as the ultimate symbol of rebelliousness, or disobedience to a supposed all-powerful Prime Creator. He does not want to surrender to the Whole, and thus begins the ordeal of Separation, or the beginning of the misuse of Free Will. And yet, if looked at dispassionately, such a transgression would be a necessary step in the direction of spiritual growth and maturation, in the sense that the perfect Unity of Enlightenment or God-realization cannot be understood or even remotely appreciated without a prior taste of the agony of Separation. Thus, "darkness" is an integral part of the Divine Plan, in the unfolding and blossoming of a universe based on Free Will.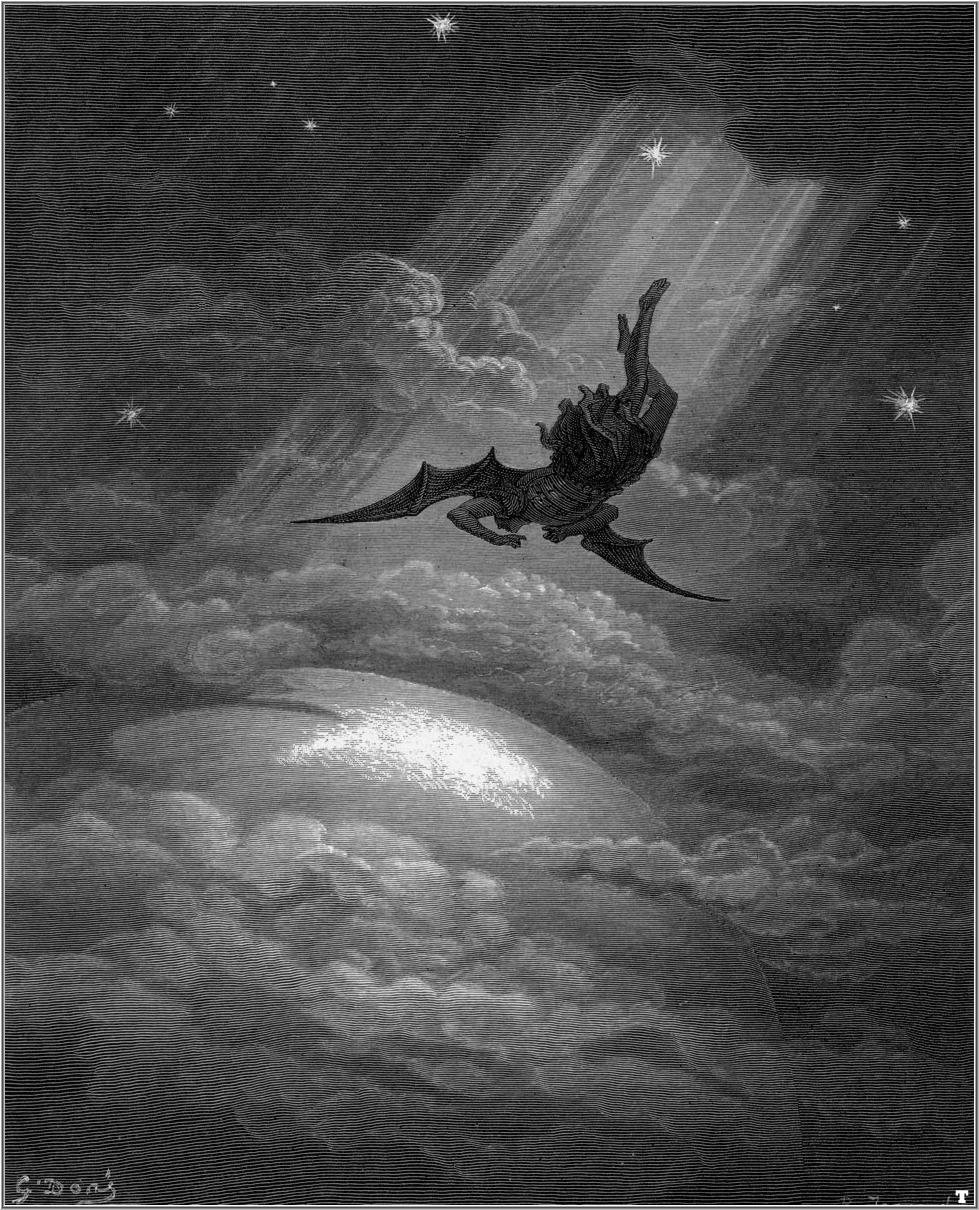 Gustave Dore's (1832-1883) engraving of the fall of Lucifer, based on Milton's Paradise Lost

This is why, according to Carl Jung, many of the symbols unearthed in the hermeneutic writings of the old Church Fathers associated with Christ are also associated with Lucifer, such as the lion, snake, raven, eagle, and fish. They are two aspects of the same essential energy, one providing the raw, separating force that ultimately is our greatest tester, the other the correcting principle that returns us to the primal unity of the Source. But neither is defined without the contrast of the other.

From the highest perspectives, the issue of Free Will becomes moot, and is eventually seen to be a non-issue. This is because the deepest Awakenings entail the realization that our "personal will" is already truly at One with the Universal Will of our Source. It is only in our unconscious condition that we perceive and experience our will as Separate from the One Will. Thus, from the context of experiencing ourselves as Separate beings, we must indeed make choices which serve our Awakening -- even though as we begin to wake up, it becomes increasingly clear how everything is unfolding as it must, and that our personal will is becoming absorbed into the Will of the Source, just us our personal consciousness is slowly revealed to be already at Home in the consciousness of the Source.

Anyone who has looked at Tibetan Buddhist art (usually in the form of statues and paintings called tangkas) has encountered a starkly dualistic vision: benevolent buddhas, bodhisattvas, and saints, juxtaposed with fierce demons, guardians, and "wrathful emanations." These latter are actually different aspects of the same entity, demonstrating through symbolic language the importance of going beyond duality by embracing both the light and the dark. For example, the fierce Mahakala, the great black Guardian, is actually the wrathful form of the Bodhisattva of Mercy and Compassion, Chenrezi. They are two different expressions of the same energy. Likewise, Manjushri, the Celestial Buddha of Wisdom, expresses the active face of Wisdom through the fearsome form of Yamantaka, known as the "Slayer of Death." Both Mahakala and Yamantaka could easily be mistaken for simple demons, and yet they function as powerful, fiery manifestations of Awakened consciousness.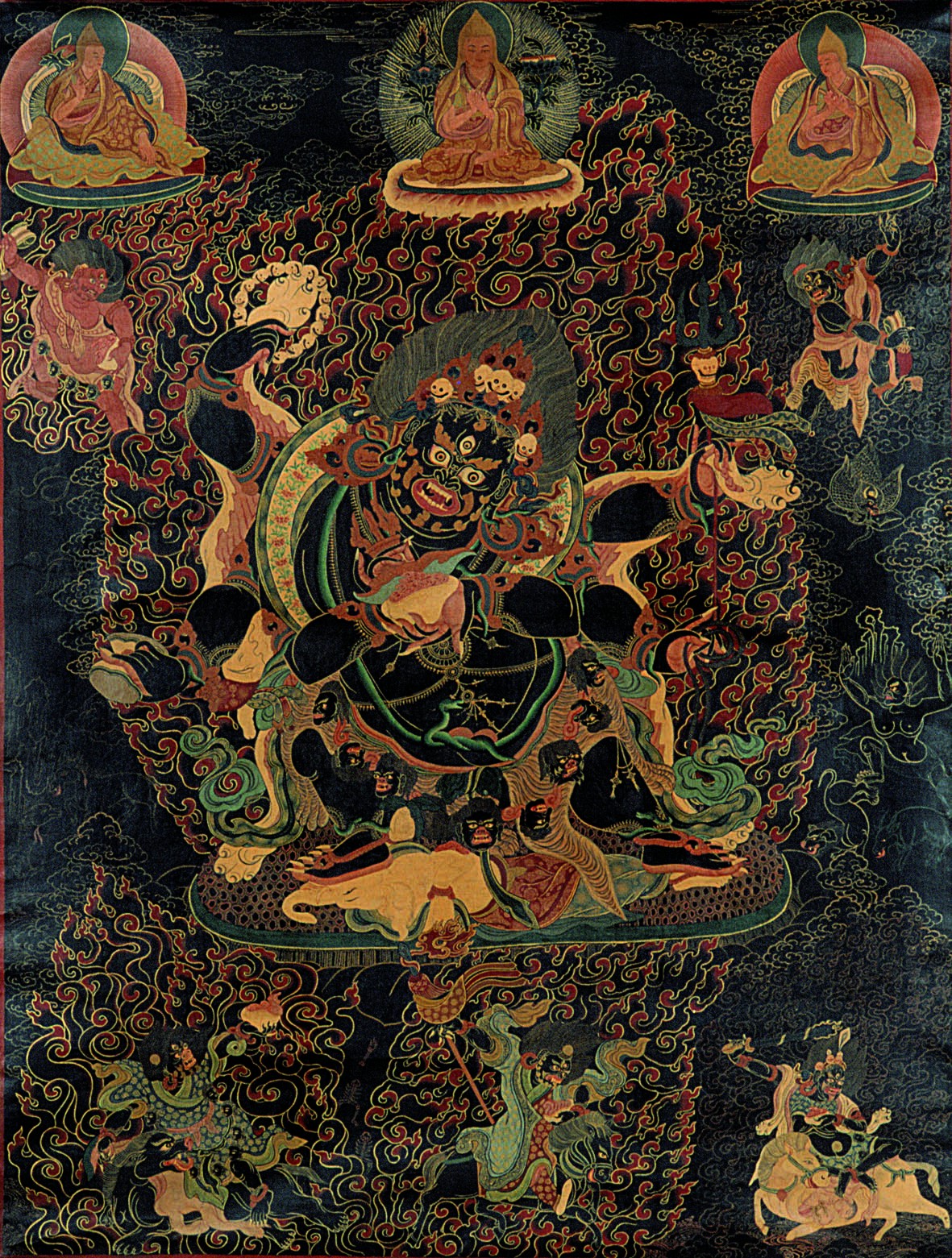 Mahakala. In Tibetan Buddhism, he is a Dharma Protector; in Hinduism he is an aspect of Shiva the Destroyer
In some forms of Tibetan Buddhism a practitioner may be assigned one of these wrathful entities as a visualization practice, if that person is working on understanding the dark, passionate energy represented by that deity. The end goal is not to change the "bad" into the "good," but rather to cultivate a profound understanding of what exactly "light" and "dark" are, so that both can be transcended and an Awakened, non-dual consciousness gradually cultivated, yielding the final understanding that it is nothing other than our minds that create "reality," including the categories of good and bad, positive and negative, light and dark, etc. This represents the wearing down of Projection, that tendency to "disown" the contents of our psyches, and to fear, shun, or loathe that which reminds us of this inner denial.

When we penetrate below the thin veneer of our socialized mask, the face that we usually present to the world and each other, what is generally found underneath is a great deal of darkness; an inchoate mass of conflicting impulses, sado-masochistic secret thoughts, and endless gradations of feelings, from rage to terror, all covering what we can designate the 'Core Wound'. This is a condition of human existence that is essentially universal, usually just below the threshold of consciousness, and expressing as anxiety, fear, shame, self-doubt, and general resistance to happiness, success, and empowerment. For most, it is a definitive reality, the place where we all experience profound doubt about our worthiness and birthright as alleged divine beings. In that place, it seems astonishing that anyone could truly love us, and any pretense of self-knowledge is seen to be hollow and foolish. At this subterranean depth, it is clear that we "know" virtually nothing.

From such a "ground of being" level so much is possible, in the way of genuine transformation, but the great tragedy is that most people walking some sort of spiritual journey generally stop short of embracing this primal wound, or even really entering into it. It is here where the "Loch Ness monster of Denial" rears its head, convincing us that it is not necessary to face such a woundedness, or even, indeed, whether we are really wounded that much at all. A particularly tricky sort of denial is the spiritualized form, which argues persuasively that, because of all the work we have done on ourselves (and the money spent doing so), we are now beyond such things, although what passes for "beyond" is very often a kind of heady numbness, lacking intensity or creativity.

All paths can and usually do develop their own form of fundamentalism, and the "New Age" has not been spared this problem either. New Age fundamentalism demonstrates (except in rare sectors) a general dislike of the shadow side of human nature, and a tendency to dwell in conceptual systems of thought that afford protection from facing the deeper, dirtier reality of one's "personal energy system". Having detailed information about past lives, crystals, aliens, or thought-systems that profess to explain much of our history or current challenges may under certain conditions prove useful and even enriching, but if not combined with an experiential understanding of the workings and movement of our minds and energy, and the sincerity and practicality to actually do something about it, such arcane knowledge is ultimately ineffective in the field of bona fide transformation. It is like endlessly admiring the technical blueprints of a large sailboat, without ever getting down to building it or even, alas, sailing on it.

The investigation of "darkness" tends to naturally liberate strong energies, particularly the sexual force. Many times in my transformational seminars and workshops I have spoken about the association between the Judeo-Christian "devil" and the sexual force, an energy that is referred to in Sanskrit as the "serpent force" (kundalini), owing to its "coiled up" condition at the base of the spine, as perceived by practitioners of Kundalini Yoga, or those with psychic capacity. The connection of this power with the Judeo-Christian "devil" -- which is really a somewhat silly caricature of the old pagan "Horned God", also known as Cernunnos or Baphomet (the ass-headed idol of the medieval Knights Templar) -- lies in the fear-based structure gradually implemented by the Church over many centuries. This seems to have had its genesis during the 4th century CE, when sections of the Bible that referred to reincarnation were removed. This is significant because the doctrine of "one life" and eternal damnation were fear-based codifications designed to control the populace effectively.

Likewise, the sexual force was the single greatest threat to the religio-political vise grip exerted by the Church. That is why those who have a deep under-standing of the Tarot cards, for example, are aware of the true symbolism behind Trump #15, the "Devil", as being symbolic of the perverted results of repressed sexual energy. This was an inherently religious creation, having no reality outside of that system. Most of the pagan, aboriginal, and shamanistic societies that were without the typical psychosexual dysfunctions of a Judeo-Christian society had no concept of a prime "devil." For them, such an idea was meaningless and irrelevant.

The pagans tortured and burned during the Inquisitions were a mixed lot, but many were simply body-centered people, who followed an animistic spirituality. When forced under torture to confess to pacts with the "devil" they were in large part abiding by the psychopathology of their tormentors, comprised mostly of simple projected repressions and perversions. In plain language, it was the fear and extreme rejection of its own darkness that caused the Church to see darkness everywhere around itself, creating the absurd barbarities and hypocrisies of that time.

"Evil" as a concept has its origins in dualistic thinking, which in the ultimate sense is the real problem. This reminds me of a particularly powerful dream I had in my fourteenth year, a time in which I had recently passed through some potent and negative drug experiences. In the dream I was flying across the Mongolian Gobi desert, where upon I descended through a tunnel into a dark cavern. In this strange place, which was imbued with a dank, macabre ambiance that seemed permeated with evil, I encountered a strange being who began impersonating myself. As soon as this entity successfully completed its shape-shifting, I was horrified to experience the full force of its darkness. It was the quintessence of evil, a cauldron of seething rage that had long ago aligned itself against the Cosmic Will. When it spoke, its voice was harsh and brutal, like lightening under a blue sky. Its communication was simple: it threatened to kill me. At that moment, terrified, I shifted into the form of a Christian priest, and, holding up a crucifix, vowed to retaliate with the "cross." The dream then abruptly ended.

Religious conditioning aside, there are some startling aspects to this dream that I could not possibly have grasped as a fourteen year old boy. For one, it was shamanistic, in the sense of the future shaman or "spirit doctor" of a tribe undergoing a frightening initiatory ordeal at the onset of manhood, which usually involved a confrontation with something adversarial. But more to the point here, it illustrates that duality that is so much perpetuated by the "internal priest" who is ultimately terrified of his own inner darkness. The more we cling to being "good" -- or to a model of ethics and morality without being conscious of our own repressed and denied self -- the more we repress our darkness, and the more intense, vengeful and dangerous it becomes. (Which is why most of the more dangerous members of society, including pathological murderers, were often remembered by people who knew them as outwardly "pleasant" as well as self-contained or self-controlled).

This was the same theme that was operative during the Inquisitions, as well as the Crusades, and, in fact, through all religiously motivated wars. The intolerance we have for other racial groups, ideologies, or cross sections of society is just the intolerance we have for our own fragmented parts, projecting our self-disdain outward. To begin to "own" the totality of what we are is a big job, and the sooner we let go of the pride of believing ourselves to be in some way special, or the fear of facing what is within, the better. Like Padmasambhava, we cannot tame the outer demons until we have faced and tamed the inner ones.

Copyright P.T. Mistlberger, 1995, All Rights Reserved.
_______________________________________