Rude Awakening: Perils, Pitfalls, and Hard Truths of the Spiritual Path (Changemakers Books) available from Amazon and select bookstores.

This book is really three short books in one. The first section is polemical, a broad critique of many of the weaker elements of transformational inner work, especially as they have appeared since the '2nd wave new age' of the 1980s (the 'first wave' occurred in the 1920s, a fact many are not aware of), and its tendency to dilute or oversimplify. The second section of the book was originally written as an essay on seven stages of awakening, and was expanded and integrated into this work. The third section is seven capsule biographies of awakened people (Socrates, Jesus, Milarepa, Hakuin, Ramana, Nisargadatta, and Yaeko Iwasaki), including some commentaries on their teachings and realizations. The book ends with a few pithy pointers for the inner journey. Total length is 282 pages.

It is sometimes said that books that point out what is 'wrong' with matters rather than adopting a more constructive and instructional approach are not as popular, and that is understandable and requires little comment. Most of life consists of a series of distractions that we use to avoid looking at our own minds -- at addressing the 'terror of the situation' as Gurdjieff bluntly called it. Few want to be shown the cracks in the ground before the earthquake. But most of the perennial wisdom traditions agree that the matter of awakening, whether approached meditatively, analytically, therapeutically, or from whatever angle floats our boat, centers on the need to recognize what is false and illusory. To deconstruct our cherished illusions can be a painful process, but the sooner we begin, the better. It is a fate no one escapes.

In October 2012 I was interviewed on the topic of this book, and related matters: http://www.youtube.com/watch?v=I5QQI5hFQLw

Table of Contents
Introduction: Spiritual Awakening Is Harder Than You Thought (Which Only Makes It More Valuable)
Part I: Rude Truths
1. Spiritual Posturing: The Regular Self and the Idealized Self
2. Eastern Fundamentalism
3. Sex and Hypocrisy
4. New Age Fluff, Feel-Good Spirituality, and the Enlightenment Industry
5. Dysfunctional Masculine and Dysfunctional Feminine Spirituality
6. False Awakenings
7. Bogged down by Practical Matters: Whatever happened to Truth?
8. Online 'Enlightenment': The Culture of Camouflage
9. Most People Don't Really Want Enlightenment—Even Those Seeking It
Part II: Further Myths, Fairy Tales, and Misconceptions
10. Phony Holy and the Denial of Darkness
11. Soul Mates and other Romantic Fairy Tales
12. Altered States of Consciousness: Glittering Illusions
13. Reincarnation: Food for the Spiritualized Ego
14. Enlightenment doesn't care whether you are Rich or Poor
15. Gurus, Disciples, and Guru-Bashers
16. 'Working on Self' and 'Creating our Reality'
Part III: Yet More Annoying Roadblocks on the Way
17. Unclear Motivation
18. Insincerity and Laziness
19. Unresolved Authority Issues
20. Excessive Intellectuality and Anti-Intellectualism
21. Relationship Drama
Part IV: Deep Awakening: Seven Steps up a Challenging Mountain
22. Preparation I: Abandoning Ship
23. Preparation II: Embracing the Unknown
24. Awakening: Passion for Truth
25. Purification I: Radical Honesty
26. Purification II: Joining Opposites
27. Enlightenment: Totality of Experience
28. Illumination: Beyond Experience
Part V: Seven Case Studies: Examples of Radically Awakened Sages
29. Socrates: The First Zen Master
30. Jesus: Rebel Lion
31. Milarepa: Reformed Sorcerer
32. Hakuin: Zen Executioner
33. Ramana Maharshi: Solid as a Mountain
34. Nisargadatta Maharaj: Passionate Tiger
35. Yaeko Iwasaki: Deathbed Awakening
Part VI: Eight Guiding Pointers for Deep Awakening
Notes
About the Author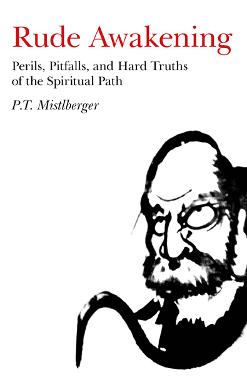 An insightful distillation of decades of hard-won spiritual experience. There are few seekers, I suspect, who will not resonate with its message and benefit from its advice.
-- Richard Smoley, author of The Dice Game of Shiva, and Inner Christianity
P.T. Mistlberger has a unique gift in that he writes with such integrity and authenticity that he is able to cut through all the spiritual fallacies, forcing us to question the very motives that underlie our desire for liberation and truth. Systematically he addresses all the myths that we hold dear and which occlude our development, impelling us to face deeply held beliefs and prejudices in order to make us truly wake up to the reality of what is really going on within. Rarely have I read such a well written, brutally honest account of the spiritual path.
-- Paula Marvelly, author of Women of Wisdom, and The Teachers of One

For all the books on spiritual practice, few have explored the real difficulties involved in becoming enlightened or even just sane through a psychospiritual process. P.T. Mistlberger provides a much needed road-map to the basics of spiritual myopia, idealism, inflation, and narcissism. Because the spiritual path is so—well, spiritual—too many people assume that it is also literal and linear and speaks for itself. But it is not a replacement for living clearly, and critically considering every activity, not only in an absolute sense but in terms of one's own tendencies of evasion. Mistlberger serves as a good spiritual therapist and coach.
-- Richard Grossinger, author of Planet Medicine and The Bardo of Waking Life, and publisher of North Atlantic Books