The Way of the Conscious Warrior
A Handbook for 21st Century Men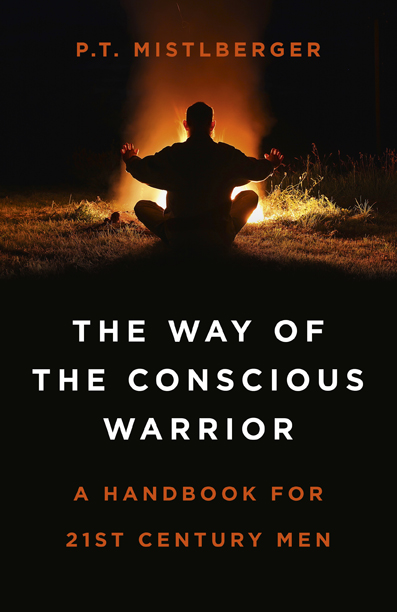 My book for men, to be released by Changemakers Books in early 2019. The book is 90,000 words long and runs about 300 pages. Much of it was written during 2015 and 2016, with updates and upgrades added during 2017 and 2018. This was necessary owing to the rapid changes underway on sociological levels in modern Western culture.
I believe that we are currently in the most difficult time in history for men. Many men are lost, confused, and alone and for the most part have few, if any, good men in their lives. The Way of the Conscious Warrior is a must read for all men. It is a very well-researched history of men and masculinity and will help the reader understand the nature of masculinity and how the unique challenges of the modern-day man came to be. Cultivation of the conscious, courageous warrior offers one of the best hopes for returning balance to our Western culture.
– Bob Munro, founder and CEO of The Art of Masculinity (www.artofmasculinity.com)
I have often thought that the men's movement lost its way after its heyday in the early nineties. I hope that this intelligent, insightful, and wide-ranging book will help get it back on track.
-- Richard Smoley, author of Inner Christianity: A Guide to the Esoteric Tradition
I was up until 1am last night reading P.T. Mistlberger's book which impressed the hell out of me. All the questions I had about the men's movement were answered clearly. He has presented us with an excellent exposition of the men's movement. Once the book is started it is difficult to put down. You will enjoy the clarity of thought presented and come away with considerable understanding of the problems facing men in the 21st century.
– Myron MacDonald, M.D., co-founder of Greenpeace
The fact is this: courageous, self-aware, integrated men get more out of life. If you are a man who wants to become more confident, accomplished, and whole, this book will help you put your wounding to bed, and help you move forward in life. With chapters regarding shadow figures, maturation, and practical steps for deepening your relationships, it is a potent balm for the modern man. The most balanced, eloquent, and deeply practical book I have read regarding men's work and masculine development. The Way Of The Conscious Warrior is the ultimate resource for any man who wants to engage life fully.

-- Jordan Gray, author and relationship coach at JordanGrayConsulting.com
Contents
Preface
Introduction: The Men's Movement Revisited
Part One: The Dilemma of the 21st Century Western Man
Chapter 1: A Brief History of the Men's Movement
Chapter 2: 21st Century Challenges: The Feminized Man, the Distracted Man, and Related Issues
Part Two: Warriors, Junkyard Dogs, and Popular Figures
Chapter 3: A Brief History of Warrior Cultures: Part I
Chapter 4: A Brief History of Warrior Cultures: Part II
Chapter 5: The Dark Side of the Male Psyche: Secrets and Junkyard Dogs
Chapter 6: Mythology and Revisioning the Code of the Warrior
Part Three: The Way of the Conscious Warrior
Chapter 8: The Code of the Conscious Warrior
Chapter 9: Shadow Work: Integrating the Beast
Chapter 10: Clarity of Thought and Meditation
Chapter 11: Guidelines for Intimate Relationship
Chapter 12: Magnum Opus, the Mature Masculine, and the Art of Decisiveness
Chapter 13: The Shaman
Chapter 14: Last Battle of the Conscious Warrior: Mastering the Mind (Enlightenment)
Notes
Suggested Reading
About the Author